May 25, 2022
Dear Roadrunners,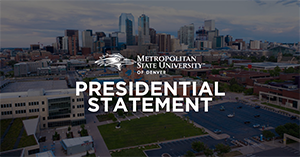 Only days ago, we observed a moment of silence in our President's Cabinet meeting to stop and reflect on the recent mass shooting in a Buffalo supermarket, barely more than a year after a similar tragedy near us in Boulder. Now we're grieving another devastating loss in a familiar setting – more than 20 students and educators dead and more injured at an elementary school in Uvalde, Texas. Once again what should be an unspeakable tragedy hits home for many of us in Colorado.
I have struggled with what I could possibly say that would adequately express the combination of sorrow, sympathy, helplessness and outrage I feel as a human being and as the president of an educational institution. I've lost count of how many times we've faced these senseless acts of violence, including too many mass shootings in our own community. Yesterday's attack was the 27th school shooting in the U.S. this year alone. No other developed nation in the world is inflicting such pain and tragedy on its own children as is happening in our country.
As many young students are going to class for their final days of the school year, it is harrowing to know that they're at such high risk of not coming home. How did we get to the point that reading, writing and arithmetic are taught alongside "run, hide, fight"? That we must teach children not just to read books, but to know when to throw them?
We all recognize this a problem and the grief we express is genuine, but it's a problem we seem incapable of solving. It's time we take action to protect our children, who have little say in the world we've made for them. Please join me in taking action to better protect our young people and our communities from this epidemic of gun violence. Students deserve to be safe in their schools; we all deserve to be safe in grocery stores and other public places. We owe it to each other to help ensure that safety.
Please take action by:
Looking out for yourself and others.
Securing any weapons you own.
Knowing the warning signs and how to report.
Supporting victims directly. 
Getting engaged!
My heart breaks for the families and communities in Uvalde and Buffalo, and all those around the country who are retraumatized after every instance of unnecessary violence. We can do better, and our kids deserve much more.
Sincerely,
Janine Davidson, Ph.D.
President