You can call it a timeline. We see it as a living history. From new buildings and initiatives, to celebrated visitors and groundbreaking achievements, these milestones chart the University's path to preeminence.
Throughout its history, the University has gone by several different names. For this timeline, however, we elected to refer to the institution by its current name: Metropolitan State University of Denver or MSU Denver.
1960s
May 1966
Harlan Bryant, Ph.D., presides over the creation of MSU Denver as acting president.
Bryant, who was president of Western State College in Gunnison, Colorado, at the time, had helped prepare the proposal for the creation of MSU Denver known as the "Green Report." He was about to leave on a camping trip when he got the call inviting him to oversee the creation of a new college. Each week during his four-month tenure, Bryant worked up to 14 hours a day preparing for the launch.
June 13, 1965
Tom Cook is the first teacher at MSU Denver
Cook was working in broadcast media when he became a charter member of the faculty. He established the first broadcasting curriculum in Colorado, received the Distinguished Faculty Award in 1983 and earned the Distinguished Service Award in 1988. He died in September 2002.
October 4, 1965
MSU Denver opens, beginning the transformation of higher education in Colorado
By midnight on Oct. 1, 1965, 1,189 students had enrolled at MSU Denver, then known as Metropolitan State College, nearly double the number expected. Thirty-six faculty and staff members were ready when classes began on Oct. 4.
1966
Kenneth Phillips, Ph.D., is named first president of MSU Denver
During his six-year tenure, Phillips made it his mission to talk with anyone who would listen about the new college, and enrollment increased to more than 7,200. He also began the conversation about finding a campus for MSU Denver, as it was quickly outgrowing the downtown buildings that had served as its first home. Phillips passed away in 2013.
January 15, 1966
MSU Denver's four-year status is established
The board of trustees of State Colleges in Colorado approved the addition of a junior class in the 1967-68 academic year and allowed for full four-year status to begin in 1968.
November 18, 1966
Kingston Trio performs at MSU Denver
One of the most popular folk-pop groups of the era performed for students, staff and faculty at MSU Denver's first college center.
January 1967
The first official student center opens in a former paint store
MSU Denver was originally housed in multiple spaces in the heart of downtown Denver. Along with the student center on Bannock Street, there was the Forum Building, which was originally designed for legal offices; the Cherokee Building, which was a former floral warehouse; and the YMCA, where physical education classes were held. The White Mule, a bar on Colfax Avenue and Elati Street, was the unofficial student union.
December 17, 1967
A queen is crowned at MSU Denver's first formal dance
Judi Jones was named queen of the Winter Festival, MSU Denver's first official dance celebrated in the school's third winter.
1967
MSU Denver publishes its first yearbook, titled "Columbine"
1967
President Phillips hires 50 new teachers for the upcoming year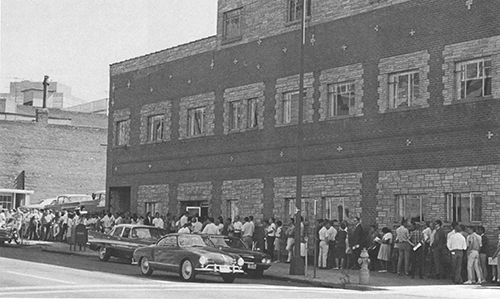 1968
Colorado legislature approves $1.9 million for construction of the Auraria Higher Education Center
MSU Denver, University of Colorado Denver and Community College of Denver were all in desperate need of larger, permanent homes. The AHEC concept of shared campus resources, including classroom space, a library and some student services, was a pragmatic and innovative way to meet the needs of all three institutions.
1968
The American Council on Education names MSU Denver among the top 16 emerging colleges
ACE selected from more than a thousand schools to generate its list, meaning that MSU Denver ranked in the top 2 percent of colleges and universities nationwide that were founded in the previous 20 years.
1968
The Glenarm Building opens for student use, located at 1222 Glenarm Place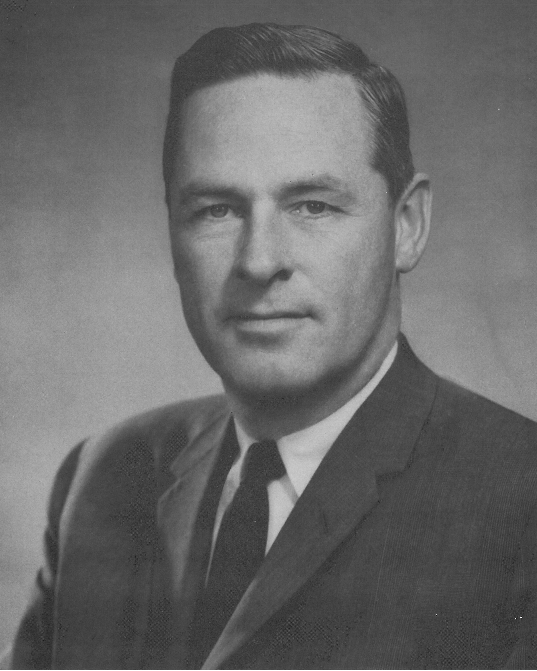 1968
Governor John Love donates many books from his private collection to MSU Denver's first library
1968
MSU Denver students publish "The Paper", the University's first newspaper
1969
Campus security is formally established and announced
The first official school security force consisted of off-duty police that would patrol various campus buildings between 5:30 and 11:30 p.m., seven nights a week. The operation was headquartered on the first floor of the AA Building.
June 1, 1969
MSU Denver confers its first bachelor's degrees
On June 1st, in Phipps Auditorium, MSU Denver awarded its first 60 baccalaureate degrees: 24 bachelor of science degrees in fields such as biology, criminal justice and criminology, and business management as well as 36 bachelor of art degrees in fields ranging from English and history to elementary education and psychology.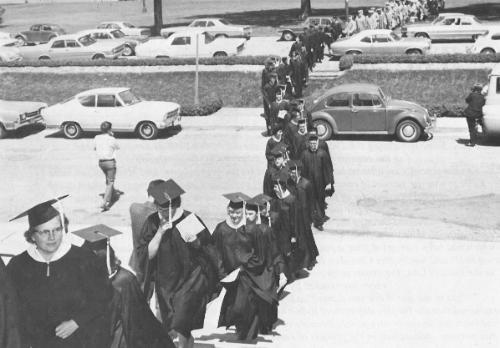 1969
An art student's sculpture of MLK is chosen for display at the Denver Art Museum
Ron Kessinger, an MSU Denver student, created a bust of Martin Luther King Jr. that was selected to be shown at the Denver Art Museum. From there, it was purchased and put on display by Manual High School.
1970s
1970
Student wins photojournalism award
W. Peter Romfh won first place at an annual Colorado Press Association convention for a shot he took prior to leaving his editorial position in the local media to pursue a speech degree at MSU Denver.
February 1970
Young Democrats have their first meeting
At their first official gathering, the MSU Denver Young Democrats met with the organization's state vice president, who explained that the platform of the group was to support the ideals of Eugene McCarthy and John F. Kennedy. English department member Robert J. Pugel was the faculty sponsor of the college chapter.
1971
The Department of Chicano Studies is founded
Only one year after it began with just 60 students at first-enrollment, the program formerly known as Hispano studies transformed into the Chicano Studies Department, with more than 200 students participating. Reuben Aguirre, who proudly displayed a United Farm Workers flag on his office wall, a gift from Cesar Chavez, chaired the department.
1971
The MSU Denver Alumni Association is founded
As of Spring 2021, MSU Denver had 96,000 alumni.
1971
English professor helps establish prep school with multicultural focus
Professor Emeritus of English Gwendolyn Thomas was among the first teachers hired by MSU Denver. She left the University for a time to direct the Intercultural School of the Rockies in Estes Park, Colorado, which enrolled Indian, Latino, African-American and white students for a program that emphasized appreciation of diversity.
1971
James D. Palmer, Ph.D., is named president
Among Palmer's greatest achievements during his six years as president was his management of MSU Denver's move to the Auraria Campus in 1977. He also had to deal with substantial cuts to the school's faculty and fought the proposal to make MSU Denver part of the CU system.
February 23, 1972
Cultural attaché to the French ambassador visits campus
M. Roland Maurice Husson spoke to students, staff and faculty at the Forum Building about the organization and importance of the press in France.
March 1973
The Academic Advising Center is established
The center was established to assist first-year students with undeclared majors or other students who were not yet seeking specific degrees. The first director to be tapped for oversight of Academic Advising was Bernie Valdez, assistant dean of Student Services.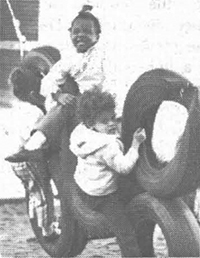 1973
A grant allows for expansion of child care services
The capacity of MSU Denver's first child care center topped off at 42, until a Model Cities Grant provided for a second location to accommodate up to 20 more kids.
1974
Mascot changed from mustang to roadrunner
When MSU Denver was founded, the mustang was chosen as its mascot. However, since the students had to run between numerous buildings scattered across downtown Denver to get to their classes, they took a vote and decided the roadrunner would be a more appropriate and meaningful mascot.
Over the ensuing decades, the roadrunner, later named Rowdy, went through a number of makeovers until its most recent incarnation in 2010.
1974
MSU Denver joins the Colorado Alliance of Research Libraries
CARL was established to help academic institutions share resources and reduce costs by working together.
1974
TRIO High School Upward Bound begins to help low-income and first-generation students
This federally funded college preparatory program was designed to help urban high school students enter and succeed in postsecondary education. MSU Denver would become renowned for its commitment to the success of students from all socioeconomic backgrounds.
1975
MSU Denver's first school song, "MSU on the Move with Colorado" debuts
1976
MSU Denver relinquishes two-year programs to CCD as part of Auraria shared-campus arrangements
1976
MSU Denver changes from a quarter to semester system
1976
MSU Denver expands its reach to the south
In 1976, MSU Denver opened a South Campus in Greenwood Village, Colorado. As part of the Extended Campus Program, the site was intended to serve adult learners who lived and worked in the greater Denver metropolitan area. Today, the campus continues to serve these same "scrappy" students, specializing in degree completion and programs for nontraditional students. In August 2015, MSU Denver celebrated a grand re-opening of the campus to highlight renovations and showcase its continued success.
1977
MSU Denver moves to the game-changing Auraria Higher Education Center
After 12 years of leasing classroom space in multiple downtown buildings, MSU Denver began its first semester on the 169-acre Auraria Campus, sharing academic space with the University of Colorado at Denver and the Community College of Denver.
1977
Hundreds of students rally at 10th & LAwrence streets, demanding a traffic light be installed
This major intersection became a focal point for protests to address the danger faced by student pedestrians attempting to cross the street to reach classes on time.
March 31, 1978
NOVA performs for MSU Denver students
This popular Italian jazz fusion/progressive rock band in the vein of groups such as Weather Report performed a free Friday-night concert, courtesy of Student Activities.
March 21, 1979
The Metropolitan school newspaper debuts
1980s
1980
Nursing program receives grant
A federal grant was provided to the Department of Nursing and Health Care Management to help expand the skills and roles of registered nurses. Ten RNs were offered a one-year program that focused on general health maintenance and management of acute and chronic illness.
1981
MSU Denver honors civil rights pioneer Rachel B. Noel with distinguished professorship
Noel, the first African American elected to the Denver Public School Board and the first African American woman to serve in an elected office in Colorado, chaired the then-college's African American Studies Department from 1971-80. Upon her retirement, the University created the Rachel B. Noel Distinguished Visiting Professorship to honor her legacy.
1981
62 students enroll in MSU Denver's first tele-courses, combining classes with television segments
1982
MSU Denver is recognized at the National Safety and Flight Evaluation Conference
The school placed in the top five for the national team flight championship, and students Keoki Gray and Mark Brown both were in the top five for the individual aircraft recognition event.
1982
Richard Fontera, Ph.D., is named president
Fontera brought a new vision and energy to MSU Denver and got the ball rolling to bring back men's basketball after it had been disbanded in 1978.
March 4, 1983
James Edward Olmos speaks at a tri-institutional event
The famous actor and activist spoke on the issue of gang violence at the St. Francis Interfaith Center. This tri-institutional event was sponsored in part by MSU Denver's Chicano Studies Program.
1983
Men's basketball returns to MSU Denver after its disbandment in 1978.
May 4, 1984
Carlos Fuentes visits campus
The world-renowned author gave a lecture titled "Permanencia: The Character of Mexican Culture" and received a standing ovation from those gathered, including Denver Mayor Federico Peña.
1984
MSU Denver is dealt a devastating blow when President Fontera dies of cancer
1985
Paul Megelli, Ph.D., is named president
Magelli's extensive business connections brought greater visibility to MSU Denver. He also revived the school's Foundation.
1985
Cellar 3.2 Bar, a student hangout in the 9th Street Mercantile Building, closes after two years
1986
MSU Denver becomes the first college in Colorado to register students by phone
In an effort to make things more convenient for students, MSU Denver became one of the first universities in the nation to offer registration by phone. Longtime staff member and innovator Tom Gray pioneered the initiative.
February 28, 1986
Angela Davis commemorates Black History Month
August 7, 1986
Daniel Ortega speaks to campus community
Nicaraguan President Daniel Ortega spoke at MSU Denver about plans for peace in Central America.
1986
Journalism professor wins Pulitzer Prize
Louis Kizer, who was also a reporter for The Denver Post, won the Pulitzer's Gold Medal for Public Service for his article on missing children.
1986
Metropolitan Magazine, a publication for alumni and friends of MSU Denver, debuts
In the ensuing years, the alumni publication went through several redesigns and name changes. It become Metropolis in 1988, Metro Magazine in 2005, and Metropolitan Denver Magazine in 2013. The Council for the Advancement and Support of Education awarded the magazine its national gold medal for magazine improvement in 2014.
1986
The Institute for Women's Studies and Services opens
This institute would later be renamed to The Gender Institute for Teaching and Advocacy and moved from its Ninth Street Park location to the Boulder Creek Building in early October of 2018.
1987
Marvin Hamlisch, composter of "The Fire of MSC" school song, receives honorary degree
February 1987
Accreditation evaluators pass MSU Denver with flying colors
Halfway between the 1975 and 1997 comprehensive evaluations by the North Central Association of Colleges and Schools, a nine-member team of national higher education professionals conducted a review of MSU Denver that resulted in a recommendation for continued accreditation "without conditions."
September 1988
The Meir home relocates to Auraria Campus and becomes MSU Denver's Golda Meir Center
The duplex at 1606 and 1608 Julian Street houses both the Golda Meir Center for Political Leadership, operated by the Political Science Department, and the Golda Meir House Museum.
1988
800 alumni and friends raise $40,000 at the first Plain and Fancy Ball
The legendary annual event transformed into an anniversary-themed celebration in 2005 and 2010. The 45th anniversary ball raised $100,000 for scholarships. Over the years, local leaders such as U.S. Rep. Patricia Schroeder and MillerCoors CEO Leo Kiely were chosen as Plain and Fancy Persons of the Year for their support of MSU Denver.
1988
Thomas B. Brewer, Ph.D., is named president
During his five years as president, Brewer fought off the resurgence of a proposed merger with the University of Colorado Denver and also spearheaded adding "of Denver" to the school's name.
February 1989
Actor Raymond Burr and media personality Dr. Ruth Westheimer visit campus
Westheimer and Burr were on campus to help dedicate the new location of the Golda Meir House.
1989
The Society of Professional Journalists posthumously names Journalism Chair Greg Pearson 1988 Journalism Educator of the Year.
1989
MSU Denver debuts Colorado's first college-produced, broadcast-quality television program
1990s
1990
A different kind of gallery: MSU Denver's Center for Visual Art opens in LoDo
A four-year dream to operate an art gallery is realized with the opening of the MSU Denver Center for Visual Art (CVA) at 1701 Wazee Street in lower downtown Denver.
January 1990
Sports Illustrated recognizes a Roadrunner
MSU Denver senior basketball player Gene Edwards was named Small College Player of the Year in the Sports Illustrated magazine.
1990
The words "of Denver" are added to the school's name
A perceived lack of name recognition, attributed to a generic-sounding name; sharing a campus with two other colleges; and the existence of a Metropolitan State University in Minnesota led President Tom Brewer to obtain legislative authority to change the school's name to Metropolitan State College of Denver.
1991
MSU Denver's first home is demolished
The Forum Building, which had been the birthplace and center of administration for MSU Denver in 1965, was torn down. The school had long since moved to the Auraria Campus.
1991
MSU Denver becomes the largest school of its kind in the nation, having reached 25 years as a formal institution
September 17, 1993
Maya Angelou shares an evening of poetry and stories
Writer and activist Maya Angelou spoke to an audience of 2,000 at the Auditorium Theater in the Denver Performing Arts Complex. The event was co-sponsored by MSU Denver's Black Student Alliance and the Metro Activities Council. Angelou would visit with the MSU Denver community again when she spoke on campus in 2005.
1992
MSU Denver holds its first Dr. Martin Luther King Jr. Peace Awards Breakfast
Now in its 23rd year, the event continues to celebrate Dr. King's legacy and has honored an amazing range of students, faculty and alumni as well as community leaders for their social justice work.
1994
Historic Tivoli Brewery opens as a student union
After a student vote to purchase the old Tivoli Brewery buildings, a two-year renovation culminated in the Tivoli Student Union, which was ultimately voted No. 9 on the 2013 Best College Reviews list of the top 25 student unions in the country.
1993
Sheila Kaplan, Ph.D., becomes president
Under Kaplan, MSU Denver achieved independence in 2002, breaking from the State Colleges in Colorado to form its own governing board. During Kaplan's 10-year tenure, the school broke the 20,000-student enrollment mark and led all four-year institutions in minority enrollment. Kaplan continues to impact the University as a professor of history.
1994
The RTD light rail station at Colfax Avenue opens on the south side of the Auraria campus
February 1994
MSU Denver welcomes jazz legend Billy Taylor
Jazz pianist and educator Billy Taylor was MSU Denver's first Rachel B. Noel Distinguished Visiting Professor. Noel was a professor at MSU Denver, where she founded and chaired the African-American Studies Department from 1971 to 1980.
1995
World Indoor Airport transforms aviation education
Two FAA airway science grants totaling $1.2 million helped fund the World Indoor Airport (WIA), a top-notch aerospace simulation laboratory for  training pilots and ground professionals. The facility bolstered MSU Denver's growing Aviation and Aerospace Science Department.
1995
Soccer player Rosie Durbin wins Colorado NCAA Woman of the Year award
Durbin ended her four-year career at MSU Denver as the second-leading scorer in school history with 94 points. Her other awards included First Team All-American, First Team Academic All-American, Colorado Sports Woman of the Year for Soccer and Colorado Athletic Conference Player of the Year.
1995
MSU Denver goes online with its first homepage at www.mscd.edu
1995
Roadrunner takes national swimming championship
Darwin Strickland brought home MSU Denver's first-ever national championship in any sport, winning the NCAA Division II 50- and 100-meter freestyle races. He took the 50-meter freestyle championship again in 1996 and ended his career named First Team All-American four times.
1996
MSU Denver offers its first online course
Twenty-one students enrolled in MSU Denver's first ever online course: Communications 261 – Introduction to Technical Writing.
1996
Professors' economic impact study shows MSU Denver is a "powerful economic driver"
The study highlighted a number of substantial benefits MSU Denver's presence brought to the metropolitan area, including the number of jobs, the amount of goods sold and the expansion of the credit base. It concluded that 72 cents of every dollar invested in the school through the state's general fund were returned to taxpayers.
1997
Social Work Program receives accreditation
MSU Denver became one of only three colleges in Colorado to be accredited by the national Council on Social Work Education, giving students an opportunity to achieve Caseworker II status, many with a focus on child welfare.
1997
Castro professorship kicks off with Chicana author and activist Cherrie Moraga
The Richard T. Castro Distinguished Visiting Professorship was launched in 1997 with the intention of exposing students, faculty and staff to the work of Chicano and Latino artists, activists and leaders.
1998
Auraria board purchases Lawrence Street Center to provide administrative office space for MSU Denver
1998
DOE awards $1.7 million Title III grant to MSU Denver
One of only 40 colleges nationwide selected for the U.S. Department of Education's five-year, $20 million Strengthening Institutions project, MSU Denver used the funds for programs to address student retention, student access to technology and faculty development.
February 8, 1999
Actor, director and author Ossie Davis gave a lecture titled "Black Creativity and the Human Experience" at MSU Denver for the 1999 Rachel B. Noel Distinguished Visiting Professorship. Davis' first of many parts in television and film was alongside Sidney Poitier in the 1950 feature "No Way Out." He also was a prominent figure in the struggle for civil rights. Davis died in 2005.
1999
Auraria Administration Building opens on the west side of campus
1999
$1.5 million Office of Migrant Education grant funds College Assistance Migrant Program
The five-year grant provided academic and financial support for students from the families of migrant and seasonal farmworkers. MSU Denver was one of only 12 institutions nationwide and the only college in Colorado to house a CAMP program. The program still exists and continues to be funded by OME grants.
March 26, 1999
Renowned musician Wynton Marsalis is honored for his leadership
Marsalis received the second annual Golda Meir Leadership Award from MSU Denver. Following receipt of the award, he treated the audience to an impromptu performance.
2000s
February 14, 2000
Recording artist Ashford and Simpson spend Valentine's day at MSU Denver
Nickolas Ashford and Valerie Simpson, multi-gold and platinum selling recording artists, delivered a lecture as part of MSU Denver's Rachel B. Noel Distinguished Visiting Professorship. The singer-songwriters were not only partners in music composition and performance, but had been married for 21 years at the time of their Valentine's Day appearance on the Auraria Campus.
March 25, 2000
Roadrunners take NCAA Division II men's basketball title
Colorado celebrated its first-ever national collegiate basketball title when the Roadrunners beat favored Kentucky Wesleyan 97-92 for the NCAA Division II championship. The achievement marked the beginning of MSU Denver Athletics' transformation into a Division II powerhouse.
October 2000
$38 million Kenneth King Academic and Performing Arts Center opens on campus
The 180,000-square-foot King Center boasts concert and recital halls, a courtyard theatre, classrooms and studios. The first public performance was an MSU Denver faculty recital in the 200-seat recital hall. One month later, the University's symphony provided the debut performance in the 550-seat concert hall.
2000
Kaplan/Newsweek recognizes MSU Denver as one of the 33 best values in higher education nationwide
Using quality of education versus tuition cost as the criteria, high school guidance counselors from across the country named MSU Denver as the only best-value institution in Colorado. The University was listed alongside such notable institutions as University of California Berkeley, Rice University and Texas A&M.
2000
MSU Denver leads Colorado in online education
With 144 online courses, MSU Denver became a leader in online education, offering the most course options in the state. General studies requirements, plus core courses for business, accounting and computer information systems, could be completed online. By 2014, more than 8,000 students were taking online courses each year.
2001
MSU Denver receives prestigious national Hesburgh Award
The award recognized faculty development programs deemed exceptional for enhancing undergraduate teaching and student learning. MSU Denver earned the award for its program to develop and retain part-time instructors and more fully utilize them as a resource to support institutional goals such as student retention.
2001
Denver Mayor Wellington Webb proclaims November 2nd as Lalo Delgado Day
Delgado (pictured), a part-time instructor in MSU Denver's Chicano/a Studies Department, was a noted poet and civil rights activist. An event in his honor was held at the Golda Meir Center for Political Leadership. Following Delgado's death in 2004, the University instituted the annual Lalo Delgado Poetry Festival.
July 1, 2002
MSU Denver gains independence, continues to transform higher education in Colorado
MSU Denver acquired its own governing board on July 1, following the passage of HB02-1165. The bill, sponsored by Rep. Nolbert Chavez and Sen. Penfield Tate, separated it from the State Colleges in Colorado board of trustees that governs Mesa State, Adams State and Western State.
2002
MSU Denver ranks 73rd in nation for graduating undergraduate Hispanics
Hispanic Outlook in Higher Education also listed MSU Denver as 58th nationally for Hispanic enrollment. Both rankings were the highest in Colorado.
February 2003
MSU Denver celebrates its first homecoming
The homecoming celebration, a tradition centered around a men's basketball game in February, continues to this day.
March 2003
Auraria students hold anti-war demonstrations that are backed by 17 campus organizations
On March 30, a group of students who opposed the war in Iraq converted a small piece of campus near the flagpole into an urban campground, vowing to stay outside until the end of the war. Up to 20 students from the three Auraria colleges lived at the camp, passing out anti-war literature and talking with supporters and opponents.
December 2003
MSU Denver's 50,000th degree 
The 50,000th person to earn an MSU Denver degree, 52-year-old Larry Langley, graduates at winter commencement.
October 1, 2004
MSU Denver receives a $9.5 million federal grant, the largest in school history
The five-year Teacher Quality Enhancement grant from the U.S. Department of Education was used to develop the Secondary Teacher Enhancement Project, a game-changing partnership with Denver Public Schools.
December 4, 2004
Another first for Colorado: MSU Denver women's soccer team takes national championship
The Roadrunners scored Colorado's first-ever collegiate soccer championship when MSU Denver (with a 25-1 record) beat Adelphi University 3-2 to win the NCAA Division II tournament. Highlights from the game were featured on the nationally televised show "CBS Sports Presents Championships of the NCAA."
February 24, 2005
Cheech Marin entertains and educates the MSU Denver community
Actor, comedian and collector of Chicano art, Richard "Cheech" Marin was MSU Denver's 2005 Richard T. Castro Distinguished Visiting Professor. He delivered a lecture about the Latino aesthetic titled "Chicano Visions: A Cheech Marin Perspective." 
April 2005
National Marketing Educators' Association names Professor Nancy Frontczak Marking Educator of the Year
June 2005
MSU Denver appoints Stephen M. Jordan, Ph.D., president
Jordan's vision of preeminence for MSU Denver radically transformed the University. Jordan spearheaded the effort to advance from college to university status. He pushed to offer master's degrees and to pursue Hispanic Serving Institution designation. Three new buildings, owned solely by the University, were constructed during his tenure.
2006
Auraria Campus named No. 1 in state and 13th nationally for purchasing green energy
2006
A partnership between MSU Denver and Denver Public Schools receives a prestigious literacy grant
The Toyota Family Literacy Program awarded one of five $600,000 scholarships to an MSU Denver/DPS partnership that helps Hispanic and other immigrant families achieve better literacy skills.
April 19, 2007
MSU Denver launches goal of achieving federal designation as a Hispanic Serving Institution
The Toyota Family Literacy Program awarded one of five $600,000 scholarships to an MSU Denver/DPS partnership that helps Hispanic and other immigrant families achieve better literacy skills.
2007
MSU Denver emerges as the leader in educating Coloradans
With nearly 21,000 resident undergraduates, MSU Denver surpassed both Colorado State University (17,443) and University of Colorado Boulder (17,237), according to the Colorado Department of Higher Education.
October 24 2007
Los Lobos performs to support the University
Three-time Grammy Award-winning artists Los Lobos performed songs from their CD, "The Town and the City" at Paramount Theatre in support of MSU Denver. This was the third annual benefit concert for the University.
2007
MSU Denver spearheads Historic 9th Street Park monument to honor displaced Aurarians
Hundreds of families in Denver's Westside neighborhood lost their homes when the Auraria Campus was built. The monument on the park's north end acknowledges their sacrifice. MSU Denver established a scholarship program for the families in 1994. As of 2007, $417,000 in displaced Aurarian scholarships had been awarded.
2007
Senators Hillary Clinton and John Edwards visit campus
Sens. Hillary Rodham Clinton and John Edwards, candidates for the 2008 Democratic presidential nomination, campaigned on campus.
September 10, 2008
DNC leader joins MSU Denver president and political science profs for post-convention lecture
Mike Dino, CEO of the Denver 2008 Convention Host Committee, joined MSU Denver President Stephen Jordan, Chair and Professor of Political Science Robert Hazan and Political Science Professor Norman Provizer to discuss the impact of the DNC on Denver at an event in Skyline Park. The event was the final lecture in MSU Denver's Skyline Park Series: "Countdown to the 2008 Democratic National Convention."
March 11, 2009
MSU Denver welcomes writer of "The Simpsons"
Joel Cohen, writer and co-executive producer of "The Simpsons," presented "The Business Tao of Homer: Lessons in Creativity and Innovation from The Simpsons," a tri-institutional seminar held in the Tivoli Turnhalle.
March 13, 2009
Anthony Luna captured the NCAA Division II 800-meter championships in the indoor and outdoor competitions.
October 2009
Chronicle of Higher Education praises MSU Denver's Right-Sizing with Technology Initiative
2010s
2010
MSU Denver enrolls more ethnic minority students than any other Colorado institution
The University's more than 5,600 students of color make up nearly 25% of the total student population.
May 2010
1,600 graduate in the University's first outdoor Commencement at Auraria Athletic Fields
June 2010
MSU Denver's Center for Visual Art moves to Denver's Santa Fe Arts District
Celebrating its 20th anniversary, the Center for Visual Art (CVA) moved into 965 Santa Fe Drive, the first building wholly owned by MSU Denver.
July 1, 2010
Addition of affordable, high-quality master's degrees transforms student opportunities
In July 2010, MSU Denver received final approval and accreditation from the Higher Learning Commission to proceed with three planned master's degree programs, the University's first-ever graduate-level offerings. The inaugural programs included Teacher Education, Professional Accountancy and Social Work.
August 2010
State-of-the-art Auraria Science Building opens
This massive construction project renovated the existing 113,000-square-foot building and added 200,000 square feet. The additional space was greatly needed by MSU Denver's Biology and Chemistry departments, which over the previous five years had experienced immense growth.
March 4, 2011
Actress and former student Pam Grier delivers conference keynote address
A movie icon with longtime ties to the Denver area, Grier returned to the Auraria Campus as keynote speaker of "Our History Is Our Strength: the 15th Annual Women's Leadership Conference."
April 4, 2011
University breaks ground on Hotel and Hospitality Learning Center
Plans for the estimated $45 million project featured more than 28,000 square feet of academic space, including classrooms and specialty learning labs, combined with the adjacent SpringHill Suites – Denver Downtown® by Marriott, which provided hands-on training for students in the Department of Hospitality, Tourism and Events.
August 18, 2011
MSU Denver receives $2 million grant from DOE to operate Equity Assistant Center
MSU Denver established one of only 10 Equity Assistance Centers nationwide under the three-year Department of Education grant. The center offered technical assistance and training to public school districts on equity issues with a focus on improving safety by decreasing the incidence of racial and sexual harassment.
May 11, 2011
Aviation and Aerospace Science Department wins collegiate aviation's most prestigious award
MSU Denver's Precision Flight Team won the Loening Trophy at the May 2011 Safety and Flight Evaluation Conference (SAFECON). The only other Colorado school ever to have won the 82-year-old award to that date was the Air Force Academy.
July 11, 2011
Biology professor appears on national DIY show
Biology Assistant Professor Bob Hancock, a medical entomologist who is an authority on blood-sucking insects, appeared on DIY's "Disaster House." The episode looked at what can happen when bats and bed bugs invade a house.
October 3, 2011
$1 million gift launches unique urban water education program
A generous gift from an anonymous local donor ― the University's largest private cash donation to that time ― established the One World, One Water Center for Urban Water Education and Stewardship.
November 14, 2011
Student literary magazine wins top national award
Metrosphere, the University's student literary magazine, received a Pacemaker Award – Literary Category, a top national honor likened to a Pulitzer Prize for student publications. The award-winning edition, inspired by graphic novels, split the literary content and art into separate, but cohesive books with one spine.
November 17, 2011
Adult Fitness and Exercise Science Program earns accreditation
The Commission on Accreditation of Allied Health Education Programs accredited the Adult Fitness and Exercise Science Program for demonstrating compliance with almost 200 standards set by the American College of Sports Medicine. Out of hundreds of programs in the country, MSU Denver's was one of a fraction of them to achieve accreditation.
December 4, 2011
Rowdy goes bobble head
The new-look Rowdy, unveiled at MSU Denver's 45th birthday party, went on sale as a bobble head at the Auraria Campus Bookstore.
December 5, 2011
Accelerated nursing students score a perfect 100
All 36 graduates from the Accelerated Nursing Program Class of 2011 passed the National Council Licensure Examination for Registered Nurses. MSU Denver's pass rate was the only perfect score among all baccalaureate and associate degree nursing programs in Colorado.
December 12, 2011
MSU Denver graduates its first five master's degree candidates
Fall commencement marked a transformative milestone in MSU Denver's history — the graduation of its first graduate students in professional accountancy and teacher education.
January 23, 2012
Marriott Foundation donates $1 million to the Hospitality Learning Center
In recognition of the gift, the HLC's 5,000-square-foot meeting room was named the J. Willard and Alice S. Marriott Foundation Conference Center.
February 4, 2012
Theatre Department becomes the first NAST-accredited institutional member in Colorado
The National Association of Schools of Theatre accredited MSU Denver's three theatre degree programs: Bachelor of Arts in Theatre, Bachelor of Fine Arts in Musical Theatre and Bachelor of Fine Arts in Applied Theatre.
February 27, 2012
Math association names MSU Denver's Calculus I Program as one of the best in the country
The Mathematical Association of America listed MSU Denver among 15 colleges and universities it identified as having successful Calculus 1 programs. The association surveyed more than 200 U.S. colleges and universities.
April 9, 2012
Federal grant of $655,249 supports effort to improve academics at five Denver Public Schools
With support from the five-year 21st Century Community Learning Center grant, the Center for Urban Education launched its 21st Century College Readiness Center with after-school tutoring, enrichment activities and family support programs to improve the academic performance and college readiness of students at five high-need Denver public schools.
April 1, 2012
Opening of Student Success Building transforms MSU Denver neighborhood and student outcomes
The Student Success Building (SSB) became the first University-owned building on the Auraria Campus. The 145,000-square-foot structure was constructed on the north end of campus, east of 7th Street along Auraria Parkway, in what is deemed the MSU Denver Neighborhood.
April 18, 2012
Metro State becomes Metropolitan State University of Denver
On April 18, Metro State officially changed its name to Metropolitan State University of Denver, when Gov. John Hickenlooper signed SB12-148 in the jam-packed Student Success Building lobby, proclaiming, "It's a law! You can now officially call yourselves Metropolitan State University of Denver."
April 30, 2012
One World, One Water sculpture is dedicated
The 12-foot bronze sculpture was created by Rik Sargent and donated by local philanthropist Valerie Gates. The sculpture illustrates water's importance through its bas-relief depiction of habitats, animals and industrial water users, and inspired the name of the University's One World, One Water Center for Urban Water Education and Stewardship.
April 30, 2012
Student Success Building gets green roof, Gold LEED rating
A 9,433-square-foot, sedum-covered portion of the newly opened Student Success Building's rooftop was one of many sustainable features engineered into the building to achieve the Gold LEED rating, which recognizes environmentally conscious design.
June 7, 2012
BOT introduces non-residential tuition rate, paving the way for passage of the ASSET bill
The Board of Trustees voted 7–1 to approve a Colorado High School/GED Nonresident Tuition Rate and received a standing ovation from the more than 200 MSU Denver community members, state legislators and others who had gathered for the June 7 meeting.
July 1, 2012
MSU Denver adopts laboratory science center
On July 1, 2012, MSU Denver took over operation of the Colorado Center for Medical Laboratory Science. The center, established in 1962, had been sponsored by the Colorado Health Foundation since the 1990s. As part of the transfer agreement, the health foundation provided nearly $1 million to cover operational costs and tuition. Today, the center's work continues to complement MSU Denver's health care programs and prepares highly-qualified workers for an in-demand field. Part of the University's Extended Campus Program, the center is based at the Medical Center of Aurora North Campus.
July 1, 2012
University unveils five-year strategic plan
Approved by the Board of Trustees in July, "A Time of Transformation: 2012-17 Strategic Plan" was a comprehensive template for the University's next five years.
August 6, 2012
Noted street artist donates mural to University's Center for Visual Art
Street artist Shepard Fairey, whose most prominent work includes the iconic "Hope" poster from Barack Obama's 2008 presidential campaign, donated a mural to the CVA. As part of a group show in Denver, he spent time with students, faculty and CVA employees talking about his craft.
August 13, 2012
Hotel and Hospitality Learning Center opens for business, transforms hospitality education
In August 2012, MSU Denver opened its state-of-the-art Hotel and Hospitality Learning Center, one of only a few nationwide collegiate hospitality learning laboratories with a fully functioning hotel.
August 13, 2012
Obama visits Auraria Campus for second time in 10 months
President Barack Obama visited the Auraria Campus to speak on women's health issues. At the earlier visit, he announced his "Pay As You Earn" proposal to ease student loan debt.
October 1, 2012
Hospitality All Stars event introduces the Hospitality Learning Center to state leaders
More than 400 people attended the Hospitality All Stars fundraiser and were treated to a smorgasbord prepared by some of Denver's top chefs as well as libations served by Gov. John Hickenlooper. In true learning-lab style, faculty and students from the Hotel, Tourism and Events Department staffed the event.
October 22, 2012
Nursing program debuts high-tech manikin
The Nursing Department's SimMan 3G manikin transformed nursing education into a high-tech endeavor. The manikin could cry, bleed, drool, convulse, wink, have a heart attack, breathe — practically anything a human could do.
December 3, 2012
Soccer player earns national academic award
The College Sports Information Directors of America named MSU Denver men's soccer player Marc Herschberger Capital One Academic All-America of the Year for NCAA Division II. Herschberger was a double major in management and marketing and held a 3.91 GPA.
January 23, 2013
Christo works make Colorado premiere at Center for Visual Art
Two original works of art by the artist Christo made their Centennial State debut at the Center for Visual Art. The next day, the pieces, which were preparatory works for "Over the River," Christo's planned public art installation in south central Colorado, were taken to the state Capitol to be hung in the Governor's Office.
March 18, 2013
Report says MSU Denver graduates are No. 1 earners in first year out of college
MSU Denver grads who stay in Colorado to work earn more out of the gate than graduates of CU Boulder and CSU, according to the College Measures/Colorado Department of Higher Education report, "Higher Education Pays: The Initial Earnings of Graduates from Colorado's Colleges and Universities Working in Colorado."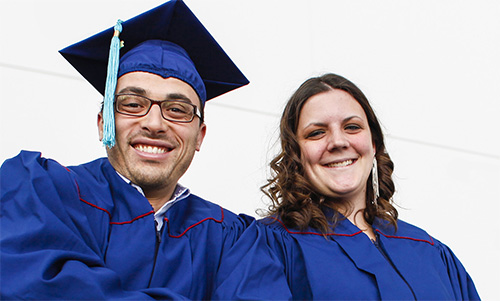 April 2, 2013
Clark honors as coach of the year
Men's basketball Head Coach Derrick Clark, who guided the Roadrunners to the national championship game, was named Division II Bulletin National Coach of the Year.
April 14, 2013
University announces $1 million naming-rights agreement for athletic complex
The new name, The Regency Athletic Complex at MSU Denver, was part of a 10-year agreement with Regency Student Housing. The complex opened with eight tennis courts in August 2013. Now completed, it houses a soccer stadium, baseball and softball fields, a training facility and walking a path that is open to the neighboring community.
April 14, 2013
French professor named 2013 US Baccalaureate Professor of the Year – Outstanding Baccalaureate Colleges
Ann Williams received one of four Professor of the Year awards from the Carnegie Foundation for the Advancement of Teaching and the Council for the Advancement and Support of Education. Now in its 32nd year, the award is one of the nation's most prestigious.
May 2, 2013
Sonia Sotomayor speaks on the Auraria Campus
U.S. Supreme Court Associate Justice Sonia Sotomayor addressed students, faculty and the community at an evening event hosted by MSU Denver at the Auraria Event Center.
May 13, 2013
Engineering professor and students build low-tech device to heat homes
Aluminum cans were the main component of a solar furnace that was built by Assistant Professor of Mechanical Engineering Technology Aaron Brown and his students and that was donated to a nonprofit in Denver's Westwood neighborhood.
June 3, 2013
HLC wins Downtown Denver Partnership Award
The Hotel and Hospitality Learning Center won one of six 2012 Downtown Denver Partnership Awards. The annual awards recognize businesses, organizations, events and projects that "have made significant contributions toward creating a unique, vibrant and diverse downtown environment and have made a lasting, positive impact on downtown Denver."
June 6, 2013
University breaks ground on an athletic complex that will transform the surrounding community
Now completed, the 12-acre, $12 million complex includes eight tennis courts and fields for soccer, softball and baseball, with a fitness trail encircling the site. The facilities are shared with the surrounding neighborhoods, creating a safe, welcoming place for athletic activities.
July 30, 2013
MSU Denver's impressive return on investment leads to Forbes "America's Top Colleges" ranking
September 10, 2013
U.S. News ranks MSU Denver 23rd among Western regional colleges
MSU Denver broke into the U.S News & World Report annual rankings of the nation's top colleges and universities, ranking 23rd on its list of regional colleges in the West and 5th among the public institutions in that category.
October 2013
MSU Denver becomes a partner in national cybersecurity awareness program
MSU Denver signed on as a partner in STOP.THINK.CONNECT, a global cybersecurity awareness campaign created to help promote the importance of online safety. Launched in 2010, the transformational campaign was created by a coalition of private companies, nonprofits and government organizations.
October 4, 2013
Redesigned automotive license plate debuts with Rowdy logo
October 23, 2013
MSU Denver and Colorado Heights University Develop partner for business degrees
The University continued to transform higher education in Colorado with an agreement that made the transfer of general studies and business core credits from Colorado Heights University easier. Credits could be applied to MSU Denver bachelor of science degrees in accounting, computer information systems, finance, management and marketing.
October 24, 2013
University president joins board of the National Higher Education Association
President Stephen Jordan was named to the board of directors of the American Association of State Colleges and Universities, a Washington-based association of nearly 420 public colleges, universities and systems whose members share a historic commitment to underserved student populations and to advancing the economic progress and cultural development of their regions.
October 29, 2013
Dazbog's Roadrunner Blend goes statewide
Dazbog Coffee added Roadrunner Blend to its product line, selling it at King Soopers and City Markets as well as at its shops. A percentage of the profit from each bag was donated to a scholarship fund at the University.
October 31, 2013
College guide recognizes MSU Denver as an "attractive option" for prospective artist in the Western U.S.
"Creative Colleges: A Guide for Actors, Artists, Dancers, Musicians and Writers" included the University's Art Department in its 2013 edition.
January 22, 2014
MSU Denver enters into its 10th exchange agreement with an international university
Kalinga Institute of Industrial Technology University in India became the latest in a series of MSU Denver partnership agreements that allow for faculty and student exchanges. The other partner institutions are in Ethiopia, Albania, Hungary, China, Puerto Rico, Italy and Russia.
February 1, 2014
Lonnie "Common" Rashid gives a lecture to commemorate Black History Month
Grammy-winning rapper, actor and author Lonnie Rashid, better known as "Common," gave a lecture titled "Greatness" during a February campus commemoration of Black History Month and the 25th anniversary of the March on Washington.
February 11, 2014
The student-run Metropolitan Grill opens in the Hotel and Hospitality Learning Center
March 17, 2014
Professor speaks at UN Commision on the Status of Women in an effort to impact human trafficking
Women's studies and psychology Professor AnnJanette Alejano-Steele, co-founder of the nonprofit Laboratory to Combat Human Trafficking, spoke at the 58th session of the United Nations Commission on the Status of Women.
March 23, 2014
MSU Denver and Cherry Creek School District collaborate on aviation/STEM education
MSU Denver worked to transform aviation education for high school students from Cherry Creek, Douglas County, Englewood, Littleton and Sheridan school districts. The aviation/STEM partnership provides college credit to high school students who complete the Cherry Creek School District's new capstone course in aviation fundamentals.
April 8, 2014
Denver Public Schools partners with MSU Denver to support STEM students
MSU Denver partnered with Denver Public Schools (DPS) to expand science, technology, engineering and math (STEM) programs and opportunities through a $7 million federal grant. The University planned to help Community College of Denver students transition to MSU Denver and also assist DPS in developing STEM curricula, a lab and transferrable credits.
May 1, 2014
Men's basketball player earns two national honors
Brandon Jefferson was named the National Association of Basketball Coaches NCAA Division II Player of the Year and the Division II Bulletin National Player of the Year after leading the Roadrunners to a 32-2 record and an appearance in the D-II Final Four.
May 1, 2014
Online Social Work Programs named one of nation's best
Best Online Colleges, the premier website for ranking online programs and schools, recognized MSU Denver as having one of the nation's best online social work degree programs for 2014. The website used enrollment data, retention and graduation rates and the breadth of specializations offered to identify 21 institutions.
May 12, 2014
MSU Denver garners regional award for community engagement
MSU Denver earned the Campus Compact of the Mountain West 2014 Engaged Campus Award for its commitment to civic engagement and service learning.
MAy 21, 2014
University invests in Denver's teachers through first-of-its-kind partnership
MSU Denver and the University of Colorado Denver partnered with Denver Public Schools to create the Denver Student Teacher Residency, the first known program of its kind in the nation that unites a school system with universities to transform teacher education students' final year of college into an intensive residency.
May 21, 2014
$1.5 million HLC donation helps transform hospitality education in Colorado
Rita and Navin Dimond donated $1.5 million ― the University's largest private gift to date. Their commitment was the basis for providing real-world learning opportunities for students in the Hotel Management Program for fostering excellence in future hospitality leaders.
July 1, 2014
MSU Denver restructures academic programming to create three college and a new school
To better represent each unit's breadth of programs, disciplines and departments, the Schools of Business; Letters, Arts and Sciences; and Professional Studies became colleges. At the same time, the Department of Teacher Education became the School of Education.
July 21, 2014
President Jordan and the University receive national diversity awards
MSU Denver and President Stephen Jordan received two awards from INSIGHT Into Diversity magazine: a Higher Education Excellence in Diversity Award and for Jordan, the prestigious Diversity Visionary Award. The magazine cited Jordan's and the University's leadership in creating higher education access for undocumented students in Colorado.
September 4, 2014
MSU Denver leads state in enrolling ASSET students
MSU Denver enrolled more qualified undocumented high school graduates under the state's ASSET law than all other Colorado public colleges or universities combined, giving these students the opportunity to not just transform their own lives, but to greatly impact the community.
September 15, 2014
Aerospace and Engineering Science initiative receives $5.2 million in funding
The AES initiative moved one step closer to becoming a reality when it received state funding to support planning, pre-construction and utility work for a new, innovative facility. The $60 million building will integrate the study of the advanced manufacturing disciplines and transform AES education in Colorado.
September 14, 2014
MSU Denver's education program becomes the School of Education
The University created a School of Education, restructuring and refining its former Teacher Education Department to better prepare future teachers to meet the changing needs of students across the state.
October 15, 2014
Master of Social Work Program/CU partnership nets $1.2 million grant
The Master of Social Work Program, in partnership with Colorado State University, received a $1.2 million grant from the U.S. Department of Health and Human Services to fund stipends for MSW students who work with at-risk children and youth.
October 20, 2014
College of Business establishes Center for Professional Selling
Continuing to transform higher education in Colorado, MSU Denver's College of Business opened the Center for Professional Selling ― the first program of its kind in the state. The center builds on the University's existing sales curriculum, offering students the practical training and skills they need to succeed.
November 6, 2014
Wall Street Journal names two professors "most influential"
The Wall Street Journal named Darrin Duber-Smith, senior marketing lecturer, and Erick Erikson, professor of economics, two of the nation's 125 most influential professors for using current events to make their teaching more relevant and challenging.
October 10, 2014
MSU Denver was ranked as Colorado's top four-year institution and 32nd nationally in the Military Times annual "Best for Vets: Colleges 2015" issue. The University was also included in Military Times "Best for Vets: Business Schools 2014."
December 4, 2014
MSU Denver named Colorado's only STEM Jobs Approved Colleges
The University was one of only 123 schools nationwide to be included on Victory Media's inaugural STEM Approved Colleges list, the first of its kind to rate schools on their responsiveness and relevance to the kind of high-demand, high-growth STEM occupations that can transform lives.
December 18, 2014
Student group among 10 finalists worldwide for Mars research competition
In a step toward transforming their dreams into reality, members of the Students for the Exploration and Development of Space organization nearly won a spot for their research project on the 2018 Mars One mission. The team was one of 10 worldwide to advance to the final round of the Mars One University Competition.