Applying to Online Programs & Registering for Online Classes
If you have chosen an online program, refer to the steps below. If you are undecided but want to enroll in classes, choose a likely major and change it later. You can't apply without choosing a major.
Get Help from an Online Enrollment Specialist
Applying to Online Programs
Registering for Online Classes
Once you have completed all of the steps for applying for an online program, you are ready to register for classes! Registration opens at different times depending on when you will start classes:
Fall – end of March
Summer – end of February
Spring – end of October
1. Go to the Student Hub and click on "Student Profile" under Web Services.
2. Click on the four squares in the top left of the screen.
3. Click on the "Menu" tab, then the "Students" Tab.

4.Next, Select the "Registration and Planning" option.
5. This will bring you to a new page where you can select "Add/Drop/Withdraw Classes"

6. Select the desired term from the drop-down menu and click continue. 
7. Select the subject and delivery method you want to search for then click "Search".
8. When you find the course and section you want to register for, click the "Add" button.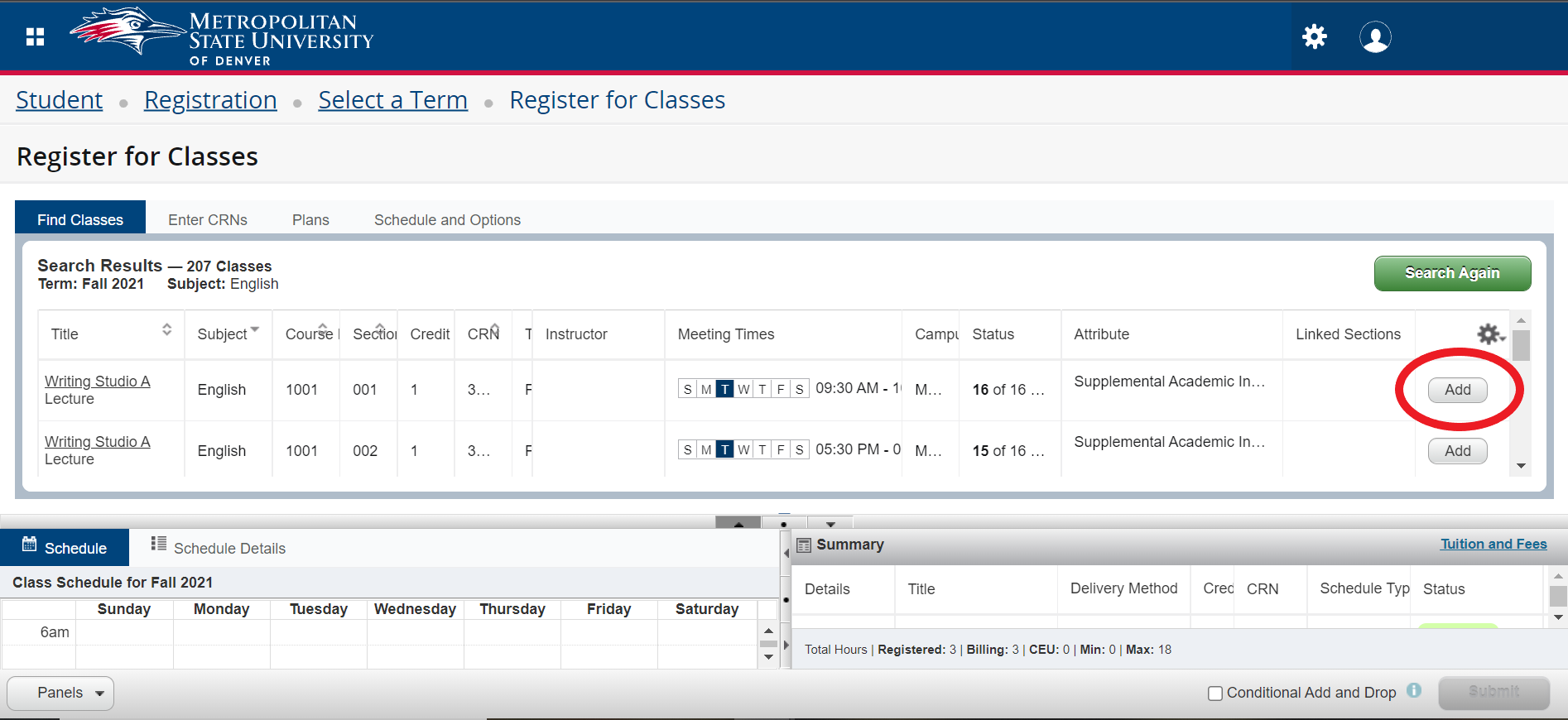 9. You will notice the classes appear in the schedule, as well as "Pending" listed in the Summary.  Once you have solidified your schedule, click "Submit".

10. You will know this is successful when you see the "Save Successful" green box appear as well as the classes solidified in your schedule. They will also state "Registered" in the summary.
11. To view your detailed schedule, Click on the "Schedule Details" tab above Class Schedule.
This field will allow you filter to online options:
The type of online class you register for will depend on your schedule and availability. Look at this list of Course Delivery Methods to see see what will work best for you. Online options are in the column on the right.
Financial Aid and Scholarships for Online Programs
New and Returning MSU Denver students can qualify for a renewable $1000 scholarship.
Scholarships for Online Students