Jim Qualteri ('96) | President
Former President of Nexus Technologies Inc. and CIO of RK Mechanical
As President of NexusTek, Jim for over 10 years managed the largest privately held MSP in the region until its successful sale in 2017. He was the Chief Information Officer for RK Mechanical, the largest mechanical contractor in the region. Jim is a veteran of the United States Army's 4th Infantry Division and while at MSU served as a Military Police Officer with the Colorado National Guard. After graduation Jim joined the CIA's Threat Management Unit as a Federal Officer. Jim enjoys being active in the Colorado community. He served eight years on the board of directors for Big Brothers Big Sisters of Colorado, two of which he was Board Chair. Jim currently owns his own IT consulting company where he provides C-Level services to MSPs around the country. He graduated MSU in 1996 with a degree in Criminal Justice.
Leon Duran ('15) | Vice President
President, HoneyCutz; U.S. Veterans Window Cleaning and Landscaping; and InspiredByLeon; U.S. Navy
Leon Duran is an entrepreneur, Creator of HoneyCutz Raw Recovery, U.S. Veterans Landscaping, and InspiredByLeon. He has served in the United States Navy for over 16 years. He has graduated from MSU Denver twice, earning a bachelors degree in Criminal Justice and a masters degree in Business Administration. Duran is also a recipient of MSU Denver's 10 Under 10 Award, which recognizes the 10 most valuable alumni in the past 10 years. Duran has been a Keynote speaker for the First Generation graduates in 2022 and has lead the Alumni Charge for graduation commencement the past four years.
Amber Mozet ('06) (she/her/hers) | Secretary
Human Resources Manager, Tepeyac Community Health Center
Born and raised in Westminster, Colorado, Amber took 5.5 years to earn her BA in Psychology and German (her tip: do not self-advise!). While a student, she worked in Athletics and the President's Office, pledged Sigma Sigma Sigma Sorority and was a member of the Cheerleading Club. Prior to her current position, Amber worked at MSU Denver for over thirteen years and loves the way that her work directly benefits future alums. She advised the Black Student Alliance (BSA) student organization and is actively involved with the African American Affairs Council (AAAC). In joining the Alumni Board, Amber is excited to connect with all alumnae; she especially wants to bring Black alumni and current students together, as this is a frequent request of her students.
Brad Kaplan ('82) | Treasurer
Vice President, Finance – Retired, Comcast Cable
The University is a major benefactor of Brad's time since his retirement. In his work life, Brad held numerous Finance, Human Resources and Management positions at Comcast Cable. Since retiring in 2017, he has started an Alumni/Student mentoring program for the College of Business, he is the Chair of the College of Business Advisory Council, an active member of MSU Denver Champions and enjoys attending University softball games. Brad places much of his personal and business success to his time at the University, graduating in 1982. The smaller classes permitted the interaction with Professors and Administrators that was the best learning environment for him. He previously held Board/Advisory positions with a number of not-for-profit organizations including the Institute of Management Accountants, Care and Share Food Bank, and Front Range Community College Business Department Board of Advisors.
When not helping MSU Denver, Brad and his wife, Judy, enjoy traveling, movies and collecting Beatles memorabilia.
Travis Luther ('08) | Foundation Board Representative
President, Queen Anne Pillow Company, ValetAds and Law Father
Travis Luther is the Founder of Luther Media, LLC whose companies include Law Father, ValetAds, Queen Anne Pillow Company, and TrialLine. Luther is the current Entrepreneur in Residence for the University of Colorado Denver and a former Adjunct Professor of Entrepreneurship at Metropolitan State University's College of Business. He is also a member of the Entrepreneurs' Organization (EO) and the Director for EO Colorado's Global Student Entrepreneurship Awards (GSEA) Program. He sits on the Executive Board of Scholars Unlimited, a Denver non-profit focused on improving child literacy among low-income and at-risk grade school children and founded their kid's computer coding program, CodeSpire. He is a frequent lecturer and author. In his free time, he plays guitar and enjoys international travel.
Joe Rice ('89) | Foundation Board Representative
Director of Government Relations, Lockheed Martin
In addition to holding the position as Director of Government Relations for Lockheed Martin Space Systems, Joe also is a Colonel in the Army Reserve with five combat tours of duty in Iraq and one peacekeeping tour in Bosnia. Additionally, he is an adjunct professor of history, government, and public administration at the Colorado Campus of the University of Phoenix. He is a former member of the Colorado State of Representatives, and a former mayor of the City of Glendale. His wife of 21 years, Kendall, is also a MSU Denver graduate. Joe is a past recipient of the MSU Denver Alumni Association Community Service Award.
Justin Darnall ('19)
Guidance, Navigation & Control and Systems Engineer, Advanced Solution Inc
Justin started out his career by joining the Marine Corps out of high school in 2006. He served for 8 years as a KC-130J/Harvest Hawk mechanic and achieved the rank of Sergeant. During his service, he completed three tours of duty to Kandahar Afghanistan, Al Asad Iraq, and Djibouti Africa. After returning home in Colorado, he attempted college a few times but found other schools to be unfriendly to veterans and began a job in Texas working on FedEx and Hawaiian Airlines airplanes. In 2016, he decided to return to Colorado and finish his degree. Attending MSU Denver was the best decision he ever made. While attending MSU Denver he was named the 2017 A.C.E. Student of the Year. Justin graduated Summa Cum Laude with a BS in Aerospace Systems Engineering Technology in August 2019 and employed by Advanced Solution Inc in Littleton as a Guidance, Navigation & Control and Systems Engineer. As part of the Alumni Board at MSU Denver, he hopes to help students achieve their education and career goals by helping with academic decisions as well as a trajectory toward career goals. On top of being a part of the Alumni Board, he volunteers as a Peer Mentor for the 2nd Judicial Veterans Treatment Court and serves as the Vice President for the Rocky Mountain Boosting Engineering Science and Technology (BEST) robotics competition.
Amy Dieterich ('14)
Employee Benefit Specialist & Director of Marketing, Intrepid
Amy Dieterich has enjoyed helping Colorado employers & individuals navigate the complex world of insurance and employee benefits for nearly 15 years.  She has obtained the Certified Insurance Counselor (CIC) designation and during her career she has been consistently recognized as a top advisor among her peers. Amy is an Employee Benefit Specialist and the Director of Marketing for Intrepid, a forward-thinking employee benefits consulting brokerage. As a working adult, Amy graduated Magna Cum Laude from Metropolitan State University of Denver in 2014 with Bachelor of Science degrees in both Finance & Marketing and a certificate in Personal Financial Planning.  Amy has served on the MSU Denver Alumni Association Board of Directors since 2018. She is a proud Roadrunner that enjoys connecting with her fellow alumni and serves as the Committee Chair of the Alumni Engagement Committee.
Devon Drew ('14)
Manager, Event Production Services at TD Ameritrade
Devon has spent the last 17 years in the financial industry, and currently produces corporate events for TD Ameritrade, a fortune 500 company. Her niche is high end events for top clients, C-suite executives and management of the TD Ameritrade Board of Directors meetings. She's held programs across the U.S., Mexico and Puerto Rico and has made a name for herself as a multi-talented planner in her industry. She earned the designation of Certified Meeting Professional through the Events Industry Council in 2018 and carries certifications in Virtual Event Management and Inclusive Event Design. Devon graduated Magna Cum Laude in 2014 with her bachelor's in behavioral science and was a proud member of the Golden Key National Honor Society. Her bachelor's degree is her most valued achievement because it taught her how to maneuver the heavy workload of a full- time corporate job, while taking classes in the evening. She appreciates the excellent education she received at Metro State and would like to encourage others to explore the same benefits MSU offers. She's a native of Boulder County and currently resides in Arvada, CO. Devon has spent time volunteering for Denver Safehouse, Girls Inc. and most recently, Denver Food Rescue. In her spare time, she enjoys hiking 14'ers, world travel, attending concerts and spending time with her husband and pets.
Sarena Espinoza ('18)
50/50 Raffle Coordinator, Colorado Rockies
Sarena is originally from Southern California (Corona), and made her way to Denver on a softball scholarship. She was the first person in her family to get a degree. In four years at MSU Denver, she was a starter, scholar-athlete, and earned her BA in Sport Management and minored in Sports Media. Working in sports has always been a dream of hers so she started working in the Athletics Department in her off-season as an intern. The opportunity to work in baseball originated when the Colorado Rockies and MSU Denver decided to partner on a 50/50 raffle at Coors Field. She joined the Rockies as a part-time staff member in April of 2018, during the establishment of the program. In January of 2019, she became a full-time staff member as the 50/50 Raffle Coordinator in the Community Affairs Department. She is part of a program that has raised over $1.5 million in just two seasons. A BIG part of her program are the volunteers from MSU Denver, and Sarena has managed over 2,000 volunteers and believes they are the reason why the raffle is so successful. Other areas she contributes to in the Rockies' Community Affairs Department are the youth initiative programs such as camps, clinics, school programs, and volunteerism around Denver.
Adama Evans ('08)
Operations Manager, Rocky Mountain Public Health Training Center
Adama is the Operations Manager for the Rocky Mountain Public Health Training Center housed in the Colorado School of Public Health. She holds a BA in Anthropology with a minor in Sociology from MSU and a Masters in Library Information Science with a focus in Museum Studies from Kent State University. She comes from an academic environment with over ten years of experience working on the Anschutz Medical Campus. Adama has experience recruiting graduate students into biomedical sciences Ph.D. programs and developing and managing courses for third- and fourth-year medical students. Her strengths lie in building and maintaining relationships with a diverse range of stakeholders.
Adama's passions are rooted in recruitment and retention efforts. She enjoys helping support and guide prospective/current students throughout their educational journey, with the help of mentorship, networking, and tough love. She is a member of the Colorado Black Library Association (CBLA) where she serves as their corresponding secretary and chair of recruitment. Adama is also a part of MSU's newly founded Black Alumni Network (B.A.N.) where she co-chairs their recruitment committee.
Although Adama's professional career has been predominantly focused in higher education administration, she has found ways to immerse herself in her community by working as an on-call librarian with Denver Public Library (DPL) and working on special exhibitions at the Denver Museum of Nature and Science. Adama also volunteers her time at special DPL events such as Juneteenth and the Colorado Black Arts Festival.
Jameer Fitch ('20)
Physical Security Analyst, Comcast Cable; CEO, B.A.M. Ltd; U.S. Navy
Jameer works as a Physical Security Analyst for Comcast Cable West Division since 2013, Jameer also serves as a Master at Arms Petty Officer First Class in the United States Navy Reserves since 2011.  He Graduated from MSU Denver in 2020 with an IDP: Legal Analytics & Organizational Leadership.  During his time with MSU Denver he served as the President of Student Veteran Affairs.   With his experience and support from MSU Denver's Launch Denver Program and education obtained at MSU Denver he started his own Lifestyle brand B.A.M. Ltd (By Any Means) which focuses on athleisure wear and fitness clothing.
He is currently pursuing furthering his education by applying to Law School in which he wants to ultimately practice Immigration, Family and Business Law.  Jameer is pursuing an opportunity in becoming a Naval Officer. Jameer has always stood behind the quote "Small Steps, Great Distances" because when you truly want to do something you have to take it a step at a time and you will surpass the finish line before you know it.
Pete Giusti ('88)
Director of DoD Business Development, Boeing Digital Services
Pete is a Colorado native who grew up in Castle Rock and is currently managing the Boeing Digital Solutions' DOD Aviation business. Prior to joining Boeing in 2015, Pete spent 26 years in the United States Air Force as a pilot supporting combat, humanitarian, supply, and VIP support missions, as well as holding several leadership positions across the DOD. After 12 moves and landing in over 40 countries, he retired from the USAF as a Colonel in 2013, and eventually found his way back home to Colorado. Pete received a BS in Aerospace Science from MSU in 1988, and later a MEd degree (Leadership Development) from CSU, and a MA in National Security and Strategic Studies from the United States Air War College. With nearly 35 years of aviation industry experience, Pete has logged over 4,000 global flight hours, and holds FAA Commercial, Certified Ground and Flight Instructor-Instrument, and Air Transport Pilot licenses in multiple aircraft.
With the desire to give back to the institution where he started his career, as a member of the Alumni Association Board of Directors, Pete hopes to not only work with and represent the Aviation and Aerospace Science Department, but to help advocate MSU to the greater local and industry communities, as well as mentor MSU students in achieving their education and career goals.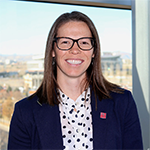 Brandi Rideout | Executive Director
Senior Director of Alumni Relations, MSU Denver
Brandi Rideout joined MSU Denver as the Assistant Director of Alumni Programs in 2015. As the current Director of Alumni Relations, she creates the best possible environment for students to succeed in life. Through innovative programming and networking events, Brandi hopes to create a legacy of engaged alumni who can always count on their Alma Mater for support. She is also an affiliate faculty member in the Human Performance and Sport Department.
Prior to becoming a Roadrunner, Brandi spent over 10 years dedicated to developing student-athletes. She helped create the best possible environment for them to succeed athletically and academically as the Assistant Athletic Director for Student-Athlete Services and SWA at Upper Iowa University, Director of Student-Athlete Services at the University of Maine, and the Assistant Basketball Coach at Colby College.
Brandi graduated from the University of Maine at Farmington with a B.S. in community health education and earned a MEd in higher education administration from Upper Iowa University. As a first-generation college student, she passionate about higher education and the opportunities that can develop as a result of obtaining a degree. She brings positive energy and a great attitude to any situation and is always looking for ways to grow and learn.
Brandi enjoys spending her free time skiing and hiking with her dog, Zion, and was the proud winner of her 7th-grade spelling bee.
Francesca Smith ('15)
Co-Founder, Nu Food | Business Development and Project Manager, SunBeam Marketing Solutions | Life Coach
Francesca is an expert in digital marketing with an emphasis on growth through social channels. Beyond her love for intelligent, creative and engaging marketing, Francesca has a passion for living an extremely active lifestyle, and is an avid professional snowboarder. In 2017, Francesca founded NU Food, a vegan snack food company based in Denver. Nu Food sells online and in multiple retail locations across the country. As a life coach, she guides her clients on how to create a healthy and active lifestyle, navigate career changes and the world of entrepreneurship, placing emphasis on accountability and growth with professional athletes. 
Peter Sola ('16)
Mortgage Loan Officer, Spire Financial, Inc.
Peter Sola, a mortgage loan officer with Spire Financial, Inc., was born and raised in Colorado, graduating in 2016 with a B.S. in Management. Before joining Spire in 2019, he was employed by Enterprise Rent-A-Car as a management trainee and with ADP in various roles, including district manager. Now that Sola is more established in his career, he looks forward to giving back to the University that offered him so much as a working student, including flexibility and affordability. He is excited to mentor and guide current students, helping them achieve their career goals.
Alyssa Svalberg ('18)
Facilities Assistant Director, Gold Crown Foundation
Alyssa Svalberg is the Facilities Assistant Director for the Gold Crown Foundation in Lakewood, Colorado and helps oversee the Gold Crown Field House and Kelli McGregor Field at Coca-Cola All Star Park athletic complexes.
She is heavily involved in the community and was named an MSU Denver 10 Under 10 Alumni award winner in Fall 2022. From organizing food drives throughout the pandemic, hosting community programming (such as NSCD, Special Olympics, local neurological rehab programs, and JeffCo Adaptive), and hosting toy drives / donation programs for local schools. Alyssa and Gold Crown frequently address needs in the community, and how the foundation can help.
She also serves on the MSU Denver Sport Management Advisory Board. In February 2023, she moderated the Women in Sports Panel, and in 2019 was a featured panelist. In addition to being an active alumni in the academic realm, Alyssa continues involvement with MSU Denver Athletics and can be found working at the stats table throughout the fall volleyball season.
A former MSU-Denver student-athlete, Alyssa was a Second-Team All Rocky Mountain Athletic Conference volleyball standout. Alyssa participated in four consecutive NCAA Volleyball Tournament appearances, including finishing in the Sweet 16 Round in 2016 and the Second Round in 2017. She was just as outstanding in the classroom, making academic honor roll every semester, and graduated Cum Laude. Alyssa is a Denver native who enjoys hiking, playing volleyball, and continuing to support both MSU-Denver's athletic and academic programs.
Elisa Varela ('10)
PhD Student, University of Colorado
Elisa is a doctoral candidate in the Department of Communication at the University of Colorado, Boulder. She is a 2010 alumna of MSU Denver's Department of Communication Studies. Currently, her research focuses on democratic engagement across differences. Broadly, she draws on social interaction and feminist perspectives to dig into questions of discourse, difference, and democracy. In particular, she is interested in how persons in dialogue and deliberation engage in discursive practices that support and limit quality communication across differences and ultimately democratic action. Often times, well-meaning people perpetuate prejudice and polarization and the practical aim of Elisa's research is to support responsible, accountable, and critically reflexive communication practice that contributes to social change. As a member of the Alumni Board at MSU Denver, Elisa is committed to putting into practice the democratic values that ground her research through various MSU Denver community-focused projects.
The MSU Denver Alumni Association is a 501(c)(4) non-profit corporation that exists to create meaningful opportunities for alumni to engage with each other, the University and the larger community.
LEARN MORE