Let us help you reach your philanthropic goals
At MSU Denver, we believe every student deserves the opportunity to pursue their dreams. We know higher education is the critical factor in upward economic and social mobility, and that is why we offer a high-quality education that prepares students to be well-rounded and work-ready.
MSU Denver educates more Coloradans than any other public institution in the state, yet we receive the least state funding per student. Our availability to offer access to educational opportunities depends on everyone's support and generosity.
Transformational Giving
MSU Denver Announces the Irv Brown Endowed Fund
On Saturday, Jan. 28, MSU Denver announced the new Irv Brown Endowed Fund at a kick-off event with the Irv Brown Champions group. The fund will support an annual professional development conference for students majoring in Sports Management. It will also provide scholarships for students in either Sports Management or Journalism and Media Production with a preference for students from Denver Public Schools or Arvada High School, where Brown coached from 1959-70.
Irv Brown was MSU Denver's first baseball coach in the 1960's and was later inducted into the University's Athletics Hall of Fame. During his long career as a coach, referee and broadcast journalist, he mentored countless young athletes and students aspiring to enter the sports profession. Brown passed away in 2019 and the Group of Champions has been working to raise money to honor his legacy.
"We chose MSU Denver because of Irv's legacy here," said Champions Co-Chair Mark McIntosh at the event. "Irv would be pleased with the dedication of these resources to students aspiring to careers in the business of sports and sports journalism."
Gifts to the Irv Brown Endowed Fund can be made here.
'Transformational gift' to support new health-education facility, career program
Plans to expand health education at Metropolitan State University of Denver got a big boost this month, thanks to a "transformational gift" by the CEO of a leading financial institution.
Financial support from Mariner and Megan Kemper, the Kemper family and the UMB Financial Corp. Charitable Foundation will help MSU Denver kick off a capital campaign to construct a building housing the University's Health Institute, a collaboration of 10 health-related departments across campus that aims to bolster the state's health care workforce while closing access gaps.
In addition to supporting the new Health Institute, the three-part gift will seed an endowed deanship for the new College of Health and Human Sciences and support the construction of the Classroom to Career Hub (C2 Hub), a University program that provides professional development and career-planning services to its students.
Learn how your passions can meet our needs
YOUR PASSION
You passion is what drives you - explore how it can help our students too.
Your Passion
YOUR GIFT
There are many ways to support MSU Denver - find the one that's right for you.
Your Gift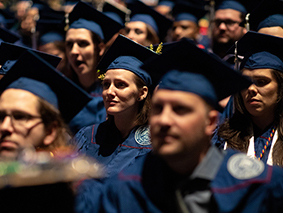 YOUR IMPACT
All gifts, no matter the size, matter - learn about how far your generosity goes.
Your Impact
We are here to help
University Advancement is dedicated to providing the guidance and support you need as you explore opportunities to align your gift with your interests, ensuring you meet your financial and philanthropic goals today, tomorrow and through your legacy. Whether you need help determining which of our 700+ funds you want to support or how to achieve a specific impact with your gift, we are here for you.
Fund Search
Not sure where you want to make an impact? Let us help match your passion to our giving opportunities.
Learn More
Interested in learning more about how you can make a lasting impact? Speak with a member of our team and we can help you find a solution to meet your philanthropic goals.
Spotlight Funds
Not sure where to designate your gift? Explore our spotlight funds to make an impact immediately!
The SEF allows students to remain focused on their educational goals instead of the financial toll of an emergency.
MAKE A GIFT
The road to graduation can be a long path for many students. Help us support their academic journey every step of the way.
MAKE A GIFT
The Roadrunner Food Pantry serves to fight hunger on campus by providing basic nutritional food for students in times of need
MAKE A GIFT
Dedicated and Professional Staff
University Advancement's staff is here to provide expertise and support as you invest in Colorado's future. We have the answers and solutions to all your questions and needs.
Meet our staff