About Us
The Meteorology program is housed in the Earth and Atmospheric Science Department at the Metropolitan State University of Denver located on the Auraria campus in downtown Denver.  Our program offers a meteorology major and minor as well as a new Climate Change Minor.  The meteorology program is unique in Colorado in that the Professional Meteorology concentration fulfills all the U.S. federal government civil service requirements for classification as a meteorologist and the American Meteorological Society's recommendations for undergraduate meteorology programs.  We are excited to announce that Meteorology students can now choose an Applied Meteorology concentration that has more flexibility and does not require a math minor, but any minor on campus.
Get Meteorology Advising Information
Need Meteorology advising? Looking for degree requirements or courses?
Click below to find Meteorology degree check sheets, course sequencing, and advisors.
Why MSU Denver?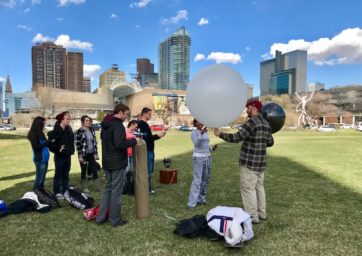 MSU Denver students have the advantage of the following opportunities:
Enjoy attending classes on a vibrant and diverse downtown campus.
Benefit from small classes and individual interaction with faculty.
Learn from a professional, diverse faculty with real-world experience.
Access real-time weather data and analysis software in our lab.
Intern with various organizations, and jump-start a successful career.
Join our active student chapter of the American Meteorological Society.
Remodeled Meteorology Lab
The Meteorology program is located in the Science building on the Auraria Campus in downtown Denver, just a bus or light rail ride to the surrounding suburbs and towns.  The MSU Denver Meteorology computer laboratory is a state-of-the-art computer lab with a giant 11-monitor weather wall that displays the current weather and forecasts using the same software as the National Weather Service.  Students use the lab to create weather visualizations for analysis.  The lab was remodeled in 2021 to include widescreen curved monitors, fast computers, new desks and chairs.  Alumni weather art is featured on the walls.
Colorado Weather and Field Courses
Located on Colorado's high plains, the MSU Denver campus offers you the opportunity to observe Colorado's extreme weather patterns first-hand. From severe weather to heavy snowfalls and blizzards to Chinook wind events, the Front Range is a fascinating place to study the weather and climate.
Watch:  Taken by Storm
Studying meteorology at MSU honed my curiosity for the atmosphere. The comprehensive knowledge given to me created an opportunity for me to explore ANY career in meteorology. I chose to pursue broadcasting and really enjoy sharing my weather passion with the general public.
I already knew when I started at MSU Denver that I wanted to be a meteorologist, however, growing up I always thought that meant presenting the weather for a television audience. After a brief stint in the private sector I was able to land my dream job, a meteorologist at the National Weather Service. One of the greatest things about the meteorology program at MSU Denver is how supportive the faculty and classmates are. This program is truly geared towards the success of the students and without the mentoring from the professors I would have never found my career path.
I was only at MSU Denver for two years to get a 2nd Bachelor's, but the short time with the professors in the meteorology program helped prepare me for grad school and the experience I gained with instruments currently help me as I'm the meteorologist for Los Alamos National Laboratory
MSU Denver's Meteorology program was a life changing experience for me. I took a chance and pursued this degree as a second Bachelor's while in my mid 20's, and I sure am glad I went for it. Thanks to the guidance from the professors, I learned more than I ever could have imagined on the subject. I was fortunate enough to work part time for a private weather forecasting company while I was a student. It eventually led to a full-time job with them and due to the remote nature of the job, I relocated to Jackson, WY to live in the mountains.
Dr. Ng motivated me to stay focused on my school work, even when there were tornadoes to be chased. Look at me now!
MSU Denver's Meteorology program was an important part of my success. Access to a variety of classes and internship opportunities meant I was able to explore multiple elements of a very diverse field of study. Because of this, I was able to find my interest in instrumentation and pursue it! I now work for the State of Georgia's Environmental Protection Division as a field meteorologist. I am charged with maintaining their network of meteorological instrumentation and validating the data for submission to the EPA's national air quality database.
At MSU Denver, the Meteorology program sparked my interest for the statistics of weather, climatology, and how the modern change in climate will impact Earth and its inhabitants. The Meteorology professors guided me to graduate school where I completed a M.S. and Ph.D. program at the Climate Change Institute, University of Maine. I enjoyed my time at MSU Denver so much that I invited Dr. Keah Schuenemann to be part of my graduate committee where she continues to help me grow as a climate scientist.
The meteorology program at MSU Denver instilled a passion for the weather and a penchant for research that inspired my career path. Through classes and the interaction, encouragement, and high expectations of the professors, I developed the skills needed to succeed in graduate school at Texas A&M Corpus Christi, where I am pursuing a PhD. My current research includes measuring precipitation and cloud microphysical properties using satellite data.
The meteorology program at MSU Denver helped me further explore and develop my passion for atmospheric science. The faculty in the program genuinely care about the well-being and success of their students. The classes that I took in the meteorology department helped me apply my theoretical knowledge to become a better forecaster. Through job listings within the department, I was able to land a job at MeteoStar, where I worked for two years before moving to Norman, Oklahoma to work towards my PhD in meteorology at the University of Oklahoma.
Working through earning a BS degree in Meteorology from MSU Denver not only helped to satisfy my deep curiosity about the world around me, it also simultaneously allowed me to land a student assistant job at NCAR. These things together opened many doors, prepared me for grad school in atmospheric science, and launched my incredibly rewarding career focused on education of others in weather ocean, and climate science.
Location, Location, Location!
Beyond the exciting Colorado weather, we are also located in close proximity to some of the largest concentrations of atmospheric scientists in the world at national labs such as the National Oceanic and Atmospheric Administration (NOAA), the National Weather Service (NWS), the National Center for Atmospheric Research (NCAR), the Laboratory for Atmospheric and Space Physics (LASP) and the National Renewable Energy Lab (NREL). This gives you the opportunity to begin working with world-renowned professionals through internships, part-time jobs and summer experiences.  This also means our part-time faculty are drawn from this community.
Meteorology Student Club
The Student Chapter of the American Meteorological Society goes to the national AMS meeting each year, tours the national labs, helps at the local news stations for holiday forecast hotlines, hosted an eclipse booth, and more.  The more senior students help other students with their coursework and the club helps build a sense of community.
Broadcast Meteorology
Although most of our students prefer to do meteorology behind the scenes, a few of our meteorology majors and minors go on to be broadcast meteorologists on television.  Learn more about how students prepare themselves for this career from this MSU Denver RED article.
Alumni at Work
MSU Denver Meteorology grads have served as:
Director of education programs for the American Meteorological Society
Forecaster for the Colorado Avalanche Information Center
Snow forecaster for Jackson Hole
Forecaster for the National Weather Service
CBS 4 Denver Broadcast Meteorologist
Aviation Weather Scientist at NCAR
Chief Meteorologist at Weather Cloud
Co-Founder of EndpointAI
Director at ClimaCell
Air Quality Scientist at Barr Engineering
Analytics and Machine Learning Scientist at NCAR
Atmospheric Scientist at Scintec Corp
Data Analyst at S&P Global Platts
Meteorologist at the Global Weather Corporation
Chief marketing officer at Weather 2020
Chief meteorologist at Midland Radio Corporation
Broadcast Meteorologist and Producer at Weather Nation
Meteorologist, Colorado Department of Transportation
Air Quality Modeler at BGE, Inc.
Environmental Consultant at Trinity Consultants
Meteorologist, Los Alamos National Laboratory
Field Meteorologist, Georgia Environmental Protection Division
Government Contractor (Air Force)
Educational Programmer at NCAR
Air Traffic Controller
Assistant State Climatologist of Colorado
Meteorology graduates have pursued graduate degrees at the following schools:
Mississippi State University
St. Louis University
Texas Tech University
University of Colorado Boulder
University of Illinois
University of North Dakota
San Jose State University
University of Maine
University of Wisconsin-Madison
University of Wisconsin-Milwaukee
Colorado State University
University of Oklahoma
Boise State University
University of Queensland, Australia
Pennsylvania State University
Meteorology Mission
The mission of the meteorology program is to provide students with an understanding of the chaotic atmosphere.  Meteorology is an applied science that combines the fields of physics, chemistry, mathematics, and computer science into an application of understanding the atmosphere.  The program exposes students to all of these disciplines, while in parallel applying these hard science concepts to mesoscale, synoptic, and global scale phenomena.  Students will be prepared for careers in a wide range of atmospheric science vocations, as well as further studies in graduate school.  Students will be prepared to communicate forecasts verbally and in written form using their own imagery, explain the reasoning for the forecast as well as the uncertainty and the reasons for uncertainty involved to a wide range of audiences.
Upon completion of this program, students will be able to:
Describe the general characteristics of the atmosphere, including physical processes and weather systems.
Select and interpret appropriate weather and climate data, including in-situ and remotely sensed information, for different situations.
Synthesize multiple types of weather and climate data to formulate short, medium, and long-range weather forecasts.
Organize, analyze, and prepare written scientific reports.
Create and deliver scientific presentations using multimedia techniques.
Apply mathematical and statistical techniques to the analysis and interpretation of atmospheric dynamics, thermodynamics, and radiation processes.
Apply scientific computing skills using appropriate software and structured programming.
Meteorology Faculty
The meteorology faculty at MSU Denver have complementary expertise, but all have one thing in common, they love teaching!  The program has three full time professors (below) and several part-time professors Dr. Scott Landolt, an NCAR researcher with instrumentation expertise; Mike Chapman, a forecast expert with CDOT; and Bob Glancy, former NWS-Boulder forecaster.  Because of our proximity to several national labs and some of the highest density of meteorologists on the planet, there is never a shortage of excellent professors.  Our class sizes are manageable at MSU Denver and you'll find yourself in classes of 32 or less, ensuring the faculty can work more closely with you, removing the anonymity you might feel in introductory courses at other types of universities.
Sam Ng, Ph.D.
Professor Sam Ng teaches a fieldwork course called Observations of Severe Weather and is an expert on weather forecasting, winter weather, convective storms and Mesoscale meteorology.
Keah Schuenemann, Ph.D.
Professor Keah Schuenemann teaches about the fluid dynamics of the atmosphere, large scale weather systems like mid-latitude cyclones, and climate change. Her climate research includes the large-scale weather pattern climatology of Greenland and changing weather patterns due to a warming climate.
Rich Wagner, Ph.D.
Professor Rich Wagner is a MSU Denver President's Award-winner and has been deeply involved in MSU Denver life and in promoting Meteorology to students who lack access or are unfamiliar with opportunities in the field. He is active in the community promoting sustainability and K-12 science education.
Contact Us
Have a question? We can answer it!
Whether you have a question about a prerequisite, need help registering for a course, or you would like to chat about one of our majors, we are here to help. Click below to send us an email!
Phone: 303-615-1177
Email:  [email protected]
Office Location:
Science Building
2nd Floor – #2028
Auraria Campus
Mailing Address: 
Metropolitan State University of Denver
Department of Earth and Atmospheric Sciences
Campus Box 22
P.O. Box 173362
Denver, CO 80217-3362