CS Registration Quick Links
CS NOTICES:
Please be advised:
CS courses 3210 and 3240 cannot be taken concurrently.
Be sure to check Start and End dates, as well as, deadlines via Registrar's Parts-of-Term.
As of Spr '23, CIS 1010 will no longer serve as a prerequisite for CSS 2751, the new perquisite will be CS 1030. Please reach out to the department if you have any additional questions or need any overrides into CSS 2751.
Please be sure to check the updated:

About MSU Denver's Computer Sciences Department
Computer Sciences lives by a deep understanding of mathematical foundations and their applications in computing. Our professors are accomplished researchers with a passion for educating and learning. Our course work is challenging, but it'll have you ready to hit the ground running on your first day on the job or in grad school.  
This learning environment is created by a faculty of teacher-scholars who maintain their currency through ongoing programs of professional development. In addition, the learning environment benefits from contacts and connections with the University and community through a variety of formal and informal service, professional and educational activities.
Upon graduation, you'll have expansive problem-solving and analytical skills to succeed in your career, even if your future job doesn't involve math or computer programming. If you want a secure job that will constantly evolve and provide a lifetime of learning, the Department of Computer Sciences will help you get there.
ABET Accreditation
The Computer Science Program is accredited by the Computing Accreditation Commission (CAC) of ABET, https://www.abet.org, under the General Criteria and the Computer Science and Similarly Named Computing Programs Program Criteria.
CS Also Co-Sponsors Cybersecurity Programs and The Cyber Range:
Meet Our CS Advisor, Faculty and Staff
Schedule an appt. through CHAS Advising, [email protected], 303-615-1099 or use the 'Get Advising' button on your Student Hub
What Else Are Your Instructor's Researching and How Can You Get Involved?
Awards and Celebrations - Congrats to All!
Professors Emeritus of Computer Sciences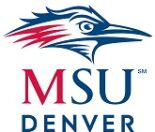 Dr. Iliya Georgiev       Dr. Charles Howerton
Dr. Aaron Gordon      Dr. Noel LeJeune
Dr. Earl Hasz              Dr. Patricia Tucker
Dr. Gerald Shultz
Steve is Interim Chair and Professor of the Department of Computer Sciences. He previously lead the cybersecurity team at NCAR and is regularly seen on local TV sharing his expertise on security risks. He currently helps develop new, interdisciplinary cybersecurity programs at MSU Denver.
Department of Computer Sciences
Feng Jiang is Affiliate/Cybersecurity Coordinator and Assistant Professor of Computer Science. She is also serving as Faculty Sponsor of MSU Denver's Student Chapter of the ACM. Dr. Jiang recently received the 2020, Provost Mini Grant, for her project: Precision Agriculture Using Machine Learning Technique.
Department of Computer Sciences
Steve Geinitz is an Assistant Professor of Computer Science, and also a former graduate of MSU Denver (in Computer Science and Mathematics). He earned a PhD from the University of Zürich (Switzerland). Early on he worked in the industry as a Software Engineer, then, more recently, as a Data Scientist/Quantitative Researcher. His general research interests lie in the areas of Machine and Statistical Learning.
Department of Computer Sciences
Thyago Mota is quoted as, "having a knack for encouraging computational thinking," "being a very dedicated and patient teacher," "[possessing] outstanding subject-matter competence," and "[leading] classes with well-prepared, interactive lectures, and a refreshing sense of humor and enthusiasm."
Department of Computer Sciences
Dr. Ranjidha Rajan advocates for Open Education and Computer Science for all. She recently completed her EdD (2023, Learning Analytics in Higher Education) from NCU, CA. Her research area is assessments of collaborative problem-based learning and enhancing self-regulation in Computer Science students.
Department of Computer Sciences
Weiying Zhu is Associate Chair and full Professor of Computer Science at MSU Denver. She has been honored with a plethora of awards for teaching and research, most recently for the Provost Teaching Innovation Award in 2010. Her expertise in Computer Sciences helped build the curriculum for the Cybersecurity degree at MSU Denver.
Department of Computer Sciences
CS Sr. Projects Spr. 2023

Contact Us
The CS Department is excited to assist you on your MSU Denver journey!
The Department of Computer Sciences can be found on the 2nd floor of the AES Bldg.
Campus Map - AES
Location:
Aerospace and Engineering Sciences (AES) – 200DD
Campus Box 38B
Phone:
303-615-0399
Email:
Office: 2023 Fall Semester Hours
M – W 8:15 AM – 4:30 PM,
(R, Corrie is remote)
T & F Shukria and Ivan in office
8:00 AM – 4:30 PM
   (R 8:00 AM-12:30 PM)
(F's, Corrie is alternately out at LEAD trainings)
Address:
Computer Sciences – MSU Denver
Denver, CO 80204