The Department of Political Science offers opportunities to pursue your passions by gaining substantive knowledge, applied skills and the theoretical understanding and ethical bases for navigating the political world, whether your interests lie in American Politics, Public Policy, International Relations, Global Politics, Law, Campaigns and Elections, Advocacy, Leadership, Interest Groups, Parties, Social Justice, Public Administration, Native American Studies or Public Service.
While studying global and domestic politics, you can expand your educational opportunities in the Department-sponsored Model U.N., travel abroad programs, internship support and Pre-Law Advising and graduate school advising.
MSU Denver Political Science graduates go on to make a difference in both public and private sectors, and have continued their education at prestigious graduate and law schools. Whichever road you choose to run, we'll guide you along the way with a fulfilling education.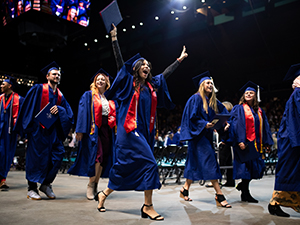 "Words cannot begin to express how thankful I am to have professors who are willing to go the extra mile to ensure my success and the success of my peers. The work they do, especially in the context of a school like MSU Denver, literally changes the trajectory of success for students who are often first generation college students like myself."
Political Science Major
"I now manage the sustainable agriculture and rural development policy portfolios for the ranking member of the U.S. House of Representatives Subcommittee on Agriculture on the Appropriations Committee. I am also about to graduate with my masters in agro-terrorism. The education I received from the Political Science Department at MSU Denver supersedes my Master's education, and has definitely helped me in my career."
Political Science Major, '16
"I decided to pursue a Master's Degree in Urban Planning and Policy. The Political Science faculty at MSU Denver actually had a lot to do with that choice! I had taken the Urban Politics class in 2014. It was super memorable and was actually one my favorite classes during college. After some time to reflect on what I wanted to do next, I decided to go forward with this program, considering how much I loved that class."
Political Science Major, '18
Political Science Degrees
Meet Our Award-Winning Faculty and Advisors
Opportunities and Academic Support
Political Science Experiential Learning Grant
Offset the costs of experiential learning with our Experiential Learning Grant
The Department of Political Science offers small grants to Political Science majors to support their educational journey outside of the classroom.  Experiential learning includes opportunities such as internships, study abroad, domestic/international travel for a student organization or event, or as a representative of the University. Grants generally range from $250 to $500. Click on the "Apply Here" link to read more about the requirements and apply for these grants with distributions starting Fall 2023.
Giving to the Department of Political Sciences
Your generous donations support MSU Denver students pursue their dreams. 
Your tax-deductible donation will help the Department of Political Sciences continue to provide a quality and competitive education for our students.
Contact the Department of Political Science
Mailing Address:
MSU Denver Department of Political Science
Campus Box 43
P.O. Box 173362
Denver, CO. 80217-3362
Location:
Auraria Campus
King Center
Room – 498