Roadrunner Tuesday is a special time of year when Roadrunners come together to fight food insecurity at MSU Denver. This year, you can ensure no Roadrunner goes hungry when you make a gift to the Rowdy's Corner (formerly the Roadrunner Food Pantry) during our annual fundraising event.
Rowdy's Corner opened their new location last year on Roadrunner Tuesday and has been able to serve a record number of students in the new space. The food pantry has seen a 200% increase in the number of transactions compared to last fall and serves an average of 661 students every week.  To continue meeting the overwhelming demand for food assistance and ensure no Roadrunner goes hungry, we need your support!
Hunger is a reality faced by many students in our Roadrunner community. Whether our students skip a meal because they are low on funds or don't consume enough quality food, without access to nutritious meals, it can be difficult to focus on learning – especially when you don't know where your next meal will come from.
On Nov. 28, you can change the lives of MSU Denver students facing food insecurity by making your gift to the Roadrunner Food Pantry. No student should worry about where they will find their next meal. With your support, we can provide food assistance to those who need it most.
Any gift, no matter the size, will impact the life of a Roadrunner during their time of need. 
Your Impact
By making your gift on Roadrunner Tuesday, we can continue to directly impact the lives of MSU Denver students facing food insecurity. Together, we can ensure no Roadrunner goes hungry!
$10 – provides nutritious food for a student in need
$25 – helps provide enough food for a student for one semester
$60 – average amount it costs to feed one student through the food pantry for an academic year
$100 – provides a backpack full of school supplies for a student
$500 – provides a week's worth of produce from local farmers for our students
$1,000 – helps provide both gluten free and vegan options for our students
$6,000 – average cost the food pantry spends per month on grab and go snacks that are made in Colorado
Rowdy's Coffee Club
Another way you can support students on Roadrunner Tuesday is by joining Rowdy's Coffee Club. By making a minimum recurring gift of $5/month, you will receive a custom travel coffee mug, have access to free daily coffee at Rowdy's Corner and provide sustained food assistance to MSU Denver students throughout the academic year.
Rowdy's Corner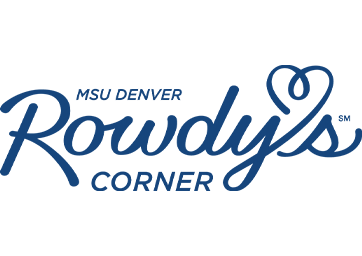 According to a March 2021 survey, 35% of MSU Denver students experience food insecurity, 39% cannot afford to eat balanced meals and 39% worry about running out of food before they can afford to buy more. With student visits increasing every semester, the Roadrunner Food Pantry reached its capacity in its original location. On Roadrunner Tuesday, Nov. 28, 2023, Rowdy's Corner (the new location of the food pantry) will be celebrating it's one year anniversary in the new space. The new location has allowed MSU Denver to provide food assistance to many more students that are experiencing difficult times.
Rowdy's Corner is more than a food pantry. The location provides free weekly access to a range of food options, hygiene products and school supplies in a shopping-like experience. This marketplace, designed by students, provides students with charging stations, social dining space and access to microwaves, utensils and other amenities. At Rowdy's Corner, students can get connected to public benefits support, community resources, Student Care Center Case Management services and attend nutrition and food preparation workshops. Through intentional community and campus partnerships, Rowdy's Corner seeks to eliminate food insecurity for all MSU Denver students and help build resilient local food systems.
Graphics for Instagram Stories
Graphics for Instagram Feeds
Ways to Make a Gift
Thank you for supporting the well-being of Metropolitan State University of Denver students with your gift on Roadrunner Tuesday!
Give by mail – postmarked no later than November 28, 2023
Reach-a-Roadrunner Call Center – request a phone call from an MSU Denver student by reaching out to

[email protected]
Make your gift here
Do NOT use MSU Denver Corporate Cards for this transaction.