Let us help you reach your philanthropic goals
At MSU Denver, we believe every student deserves the opportunity to pursue their dreams. We know higher education is the critical factor in upward economic and social mobility, and that is why we offer a high-quality education that prepares students to be well-rounded and work-ready.
MSU Denver educates more Coloradans than any other public institution in the state, yet we receive the lease state funding per student. Our availability to offer access to educational opportunities depends on everyone's support and generosity.
Calendar Year End Giving
Making a gift at the end of the year is a great way to support MSU Denver and take advantage of potential take tax benefits you may qualify for this year.
Remember, the Taxpayer Certainty and Disaster Tax Relief Act of 2020 has been extended to 2021, allowing most individuals – even those who choose to take the standard deduction – to deduct up to $600 in donations to qualified charities (like MSU Denver) on their federal income tax returns.
We invite you to explore the many ways you can make a difference for Roadrunners this season!
Gifts of Stocks/Securities
Making a gift of stocks/securities is a great way to support the MSU Denver Roadrunner community. Follow this link for detailed delivery instructions.
IRA Charitable Rollovers
IRA Charitable Rollovers allows donors to maximize charitable contributions while still minimizing their AGI when transferring to qualified public charities like MSU Denver. Contact Lori Herrera to inquire about making your year-end rollover gift.
Mail in Your Gift
In order to to have your gift applied to 2021, it must be postmarked by December 21, 2021. Checks should be made out to MSU Denver Foundation, Inc. and be mailed to:
MSU Denver
University Advancement
Campus Box  14, PO Box 173362
Denver, CO 80217-3362
Online Giving
Making a gift to MSU Denver has never been easier. Simply click on this link and select the designation of your choice.
#RoadrunnerTuesday
November 30, 2021
Roadrunner Tuesday is a special time of year when Roadrunners come together to fight food insecurity at MSU Denver. This year, you can ensure no Roadrunner goes hungry when you make a gift to the Roadrunner Food Pantry during our annual 24-hour fundraising event.
Learn how your passions can meet our needs
YOUR PASSION
You passion is what drives you - explore how it can help our students too.
Your Passion
YOUR GIFT
There are many ways to support MSU Denver - find the one that's right for you.
Your Gift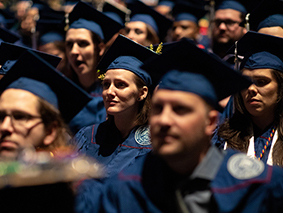 YOUR IMPACT
All gifts, no matter the size, matter - learn about how far your generosity goes.
Your Impact
We are here to help
University Advancement is dedicated to providing the guidance and support you need as you explore opportunities to align your gift with your interests, ensuring you meet your financial and philanthropic goals today, tomorrow and through your legacy. Whether you need help determining which of our 700+ funds you want to support or how to achieve a specific impact with your gift, we are here for you.
Fund Search
Not sure where you want to make an impact? Search our 700+ funds to find the opportunity that excites you most.
Learn More
Interested in learning more about how you can make a lasting impact? Speak with a member of our team and we can help you find a solution to meet your philanthropic goals.
Spotlight Funds
Not sure where to designate your gift? Explore our spotlight funds to make an impact immediately!
The SEF allows students to remain focused on their educational goals instead of the financial toll of an emergency.
MAKE A GIFT
The road to graduation can be a long path for many students. Help us support their academic journey every step of the way.
MAKE A GIFT
Earn and Learn Program levels the playing field by providing a modest stipend to students who take unpaid internships.
MAKE A GIFT
Dedicated and Professional Staff
University Advancement's staff is here to provide expertise and support as you invest in Colorado's future. We have the answers and solutions to all your questions and needs.
Meet our staff