Welcome
The Colorado Center for Medical Laboratory Science, a program of Metropolitan State University of Denver, offers post BS-level professional education in Medical Laboratory Science.
Medical Laboratory Science, also known as medical technology or clinical laboratory science, is a nationally recognized allied health field. Those with bachelor degrees in biology, microbiology, molecular biology, biochemistry, chemistry and other related academic programs are well-prepared to enter this post-BS health career pathway.
Medical laboratory scientists are key members of the health care team who contribute to the practice of diagnostic medicine.  Working in clinical pathology laboratories, the medical laboratory scientist performs a wide range of analytical tests to identify a variety of disease processes, including anemia, leukemia, infection, cardiac disorders and cancer.  Certified medical laboratory scientists are skilled in a large number of techniques, including molecular diagnostic testing, that allow for medical diagnosis, determination of therapeutic drug levels, and safe transfusion practices.
The Center offers a nationally accredited, one year curriculum that includes a variety of didactic, student laboratory, and clinical course work in all areas of laboratory medicine. Our graduates are eligible to sit for the national certification examination in medical laboratory science (MLS) offered by the: American Society for Clinical Pathology (ASCP).
The Colorado Center for Medical Laboratory Science is one of the largest and among the oldest Schools of Medical Laboratory Sciences in the Rocky Mountain region. Established at St. Luke's Hospital in 1962, the program was located on the Presbyterian/St. Luke's Medical Center campus since the 1980s. A recent move to a new teaching facility at Medical Center of Aurora enabled the program to expand the number of students it admits each year. We take pride in our innovative programs and skilled graduates. Major disciplines in the field include hematology, blood banking, clinical chemistry and microbiology.
We share in the vision of our program sponsor Metropolitan State University of Denver, in our commitment and mission to improving health care of Coloradans and those in the Rocky Mountain region by providing laboratory professionals that possess strong leadership qualities and excellent theoretical and technical skills.

Certified medical laboratory scientists work in hospital clinical laboratories, reference and state health department laboratories, government agencies, the armed forces, and research, as well as in the industries that support the clinical laboratory field. A severe national shortage of medical laboratory scientists has generated a large demand for new graduates. In addition to immediate employment opportunities, graduates often pursue continuing education, including advanced degrees, physician assistant programs and medical school.
Online Information Sessions
A faculty member from the Colorado Center for Medical Laboratory Science will lead an online video conference (Microsoft Teams) for individuals interested in learning more about CCMLS' post-baccalaureate medical laboratory science program. Occasionally, (see dates highlighted with a **) a representative from UCHealth will join the video conference to share additional insight into the clinical rotation side of the program. To sign up for an Upcoming Online Information Session see dates and times below. The video conference includes an informational power point presentation followed by a question and answer session. If the online conference you wish to attend has been filled, please sign up for the wait list and you will be notified should a spot become available or when the next conference will be held.
Upcoming Online Information Sessions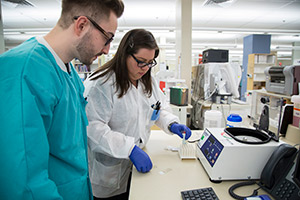 Read more about the scientists you'll never meet, but will probably save your life.
Read it here
Read about former Staff Sgt. Jarret Pendl's choice to become a Medical Laboratory Technician after retirement.
Read It Here
Colorado Center for Medical Laboratory Science
Office of Admissions and Records
Admissions E-mail:
[email protected]
Phone:
(303) 615-0078
Fax:
Please submit electronic documents via E-mail.
Location:
Medical Center of Aurora
North Campus
Mailing Address:
730 Potomac St., Suite 102
Aurora, CO  80011