Feb. 14, 2023
Dear Roadrunners,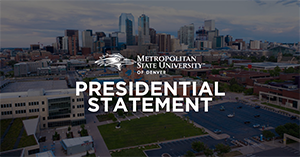 I am at a loss to describe how I'm feeling after a spate of shootings and lockdowns at schools near and far yesterday. Colorado School of Mines was on lockdown for five hours early Monday while police searched for an armed fugitive who killed a police K-9; a Denver East High School student was shot near the school in the afternoon and remains hospitalized; and at least three Michigan State University students were killed and several more injured during a mass shooting last night.
This series of tragic school shootings occurred exactly three months after mass killings at universities in Idaho and Virginia, and there have been many more mass shootings just outside of school settings nearly every day in the United States since then. Because I care deeply about the mental and emotional health of our students and colleagues, I find it challenging not to write a public message for every tragic event we all read about in the news.
As a university president, my top priority is the safety and well-being of MSU Denver students and employees. As we grieve the victims of yesterday's violence and recognize the trauma inflicted on thousands more who experienced Monday's campus lockdowns, I ask that you review the emergency procedures for the Auraria Campus (in English or Spanish), which are posted online and as flyers around campus, as well as these safety tips and resources for our campus.
As you all experienced during last week's bomb threat at Lynx Crossing, MSU Denver will communicate proactively and thoroughly during emergencies via RAVE alerts, social media and emails; we have spent the past few years fine-tuning our crisis procedures and communications to ensure a timely and efficient response to any issue that arises on campus. Thanks to our public-safety team and all of our community members and friends for all they do to keep our campuses safe.
Together, we can protect and support one another.
Sincerely,
Janine Davidson, Ph.D.
President
---
Campus Resources: