Department of History
News and Events
Dr. Shelby Balik's Article Published in Washington Post
The piece was featured in the Made by History section.
November 12, 2020
The full article entitled, "Donald Trump's disregard for our transition rituals threatens our democracy" can be found on the Washington Post's website or through the following link.
https://www.washingtonpost.com/outlook/2020/11/12/donald-trumps-disregard-our-transition-rituals-threatens-our-democracy/
In memoriam
MSU Denver mourns the passing of Paul Sidelko, Ph.D., professor of history.
October 26, 2020
Paul Sidelko, Ph.D. – a beloved son, uncle, brother, friend, professor and colleague – passed away last week at the age of 53. Sidelko was a professor of history at Metropolitan State University of Denver, where he taught courses on medieval Europe, Islamic cultures and the modern Middle East.
A dedicated academic with a passion for history, Sidelko spent more than 20 years in higher education. Prior to joining MSU Denver, he taught at the University of Toronto, the University of New Mexico, the University of Colorado Denver, the University of Louisville and Grand Valley State University. He accepted a position as an assistant professor with MSU Denver in 2006 and was promoted to full professor in August 2019.
Sidelko had a brilliant intellect, which he joyfully shared with students. He was never afraid to express himself, especially when it came to supporting MSU Denver students. Former student Cardinal Tomczyk described Professor Sidelko as "an inspiring intellectual with a great love of his chosen subject."
"He was open and opinionated yet not only willing to listen to his students but genuinely interested in what opinions they had to offer," Tomczyk said. "This made class time a pleasure."
Sidelko dedicated himself to developing study-abroad opportunities, and his own work took him to the United Arab Emirates, Oman, Egypt, Turkey, Jordan, Israel, Morocco, Indonesia and Sri Lanka. Sidelko also served as the treasurer of the Fulbright Association of Colorado and was a member of the Mediterranean Seminar, the Medieval Academy of America and the Middle East Studies Association.
He was also fundamental in helping to shape the Individualized Degree Program at MSU Denver. He helped countless students carve unique paths to IDP degrees. One of his IDP students, Naweed Hoshmand, said, "He was always supportive and never really stopped advocating for us to use our voices and say what we felt must be said."
As a researcher, Sidelko focused on medieval and modern periods of history in the Middle East and North Africa, including Turkey and the Mediterranean. Topics that drew his focus included the Arab Spring, the complex diversity of Islamic societies, Muslims in North America, the Arab-Israeli conflict, Iran and Iraq – as well as the Middle East during WWI, WWII and the Cold War. He authored several publications and often presented his research on campus and around the world.
Sidelko earned a bachelor's degree in Medieval Studies with emphasis on history from Swarthmore College in 1989, followed by a master's degree in Medieval Studies, Latin, French, German and Arabic at the University of Toronto. His studies culminated with a doctorate in Medieval European and Islamic History, also from the University of Toronto, in 1998.
He is survived by his parents, William and Delores; his brother John and sister-in-law Rebecca; nephew Clayton; and dogs Thayni and Walis. The Sidelko family and Paul's many friends ask anyone who would like to remember Paul to give a donation in his name to support refugee students and immigrant services at MSU Denver.
Giving to the MSU Denver Foundation online is secure and easy, and since the foundation is a 501(c)(3) organization registered and in good standing with the IRS, your gift is tax-deductible in the manner and to the extent provided by law. Please consult your tax advisor. Thank you for supporting our students and programs. Please note: MSU Denver Corporate Cards may not be used.
African American History Month Events
Wednesday, February 19th and Thursday, February 20th, 2020
Dr. Matthew Makley's Book Wins Award
Tuesday, December 3rd, 2019
Dr. Makley's book The Small Shall Be Strong: A History of Lake Tahoe's Washoe Indians was selected as the 2019 "Outstanding Academic Title" by Choice. Their letter of notification specified, "These outstanding works have been selected for their excellence in scholarship and presentation, the significance of their contribution to the field, and their value as an important—often the first—treatment of their subject. Constituting about eleven percent of the titles reviewed by Choice during the past year, and two percent of the more than 21,000 titles submitted to Choice during the same period, Outstanding Academic Titles are truly the 'best of the best.'"
Constitution Day
Tuesday, September 17th, 2019
Constitution Day--Be Counted!
Session I 10-11 am
Session II 2-3 pm
TIVOLI 320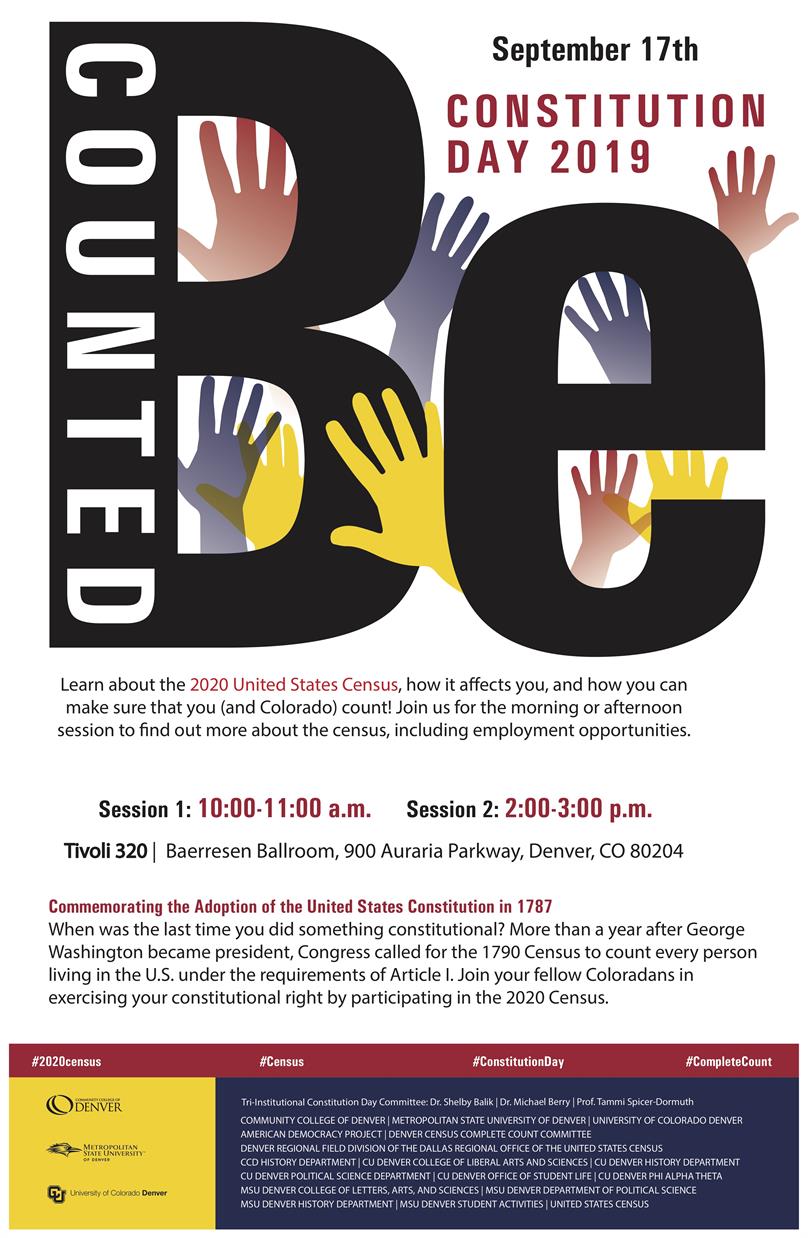 In memoriam
Remembering the life of Ellen Slatkin.
August 21, 2019
Beloved faculty member Ellen Slatkin passed away Sunday at her home.
The longtime Metropolitan State University of Denver educator in the Department of History was dedicated to serving her students and colleagues for more than three decades. A product of Denver Public Schools, Slatkin went on to receive her Bachelor of Arts degree from Simmons College in Boston, a master's degree from the University of Denver and a doctorate in education from the University of California – Los Angeles.
Slatkin was given the 2018 Distinguished Service Award for Faculty for her exemplary work teaching for the University. During her career, she touched the lives of countless students as mentor and friend.
"She inspired all her students to be better, to never stop improving," said a former student who wished to remain anonymous. "She instilled in us a desire to speak out when we saw injustice and utilized her knowledge of the past to explain the importance of taking action in the present."
As the president of the Metropolitan State Faculty Federation and past president of the American Federation of Teachers-Colorado, she worked tirelessly to advance the role of the professoriate, always with warmth and compassion as colleague and friend.
"Ellen showed me what solidarity really means," said Sheila Rucki, professor of political science and past president of MSU Denver's Faculty Senate. "I watched her in amazement while she fought for faculty, for students and for MSU Denver as a whole. Even when it was hard, even when the cause seemed lost, even at great personal sacrifice, she fought for what is right. She made this place, and me, better."
"She was a fierce and smart advocate for faculty who cared deeply about both MSU Denver's students and those who taught them," added Provost Vicki Golich, Ph.D. "Her loss is heartbreaking."
Services were held Tuesday at Denver's BMH-BJ Synagogue. A campuswide celebration of her life is being planned and will be announced soon.
Contributions can be made in memory of Slatkin to the Pamela McIntyre-Marcum Endowed Memorial Scholarship Fund.
In memoriam
Remembering the life of Donna Zewe-Potempa.
May 16, 2019
Donna Lynn Zewe-Potempa died May 7 at Longmont United Hospital following a courageous battle with cancer.
Zewe-Potempa served Metropolitan State University of Denver's Department of History as an academic-program coordinator for nearly eight years before leaving in 2017 to manage her illness. She was a proud Roadrunner with several significant ties to the University community. Her mother Judy Zewe worked as associate vice president of Human Resources for seven years before retiring in 2013. Her daughter Brittany Samm graduated from MSU Denver in 2017 with a double major in History and Anthropology.
Zewe-Potempa was especially proud of her long career in higher-education administration, having worked at Regis University before she joined MSU Denver. She was happiest spending time with her family, including her daughter and husband, as well as with her friends and beloved Chihuahuas.
Her MSU Denver friends and colleagues remember her as hardworking, intelligent and dedicated, and noted that her brave, years-long fight against incredible health challenges was an inspiration.
A celebration of Zewe-Potempa's life will be held at Olinger Highland Mortuary, 10201 Grant St., Thornton, on Saturday at 11 a.m.
Student mentored by History Department faculty presents research at a conference
Friday, April 19th, 2019

During the 2019 MSU Denver Undergraduate Research Conference, Shara Merrill (an Individualized Degree Plan student) presented her project entitled, "Global Upheaval in 1919: A New Way to Compile Historical Research". Ms. Merrill was mentored primarily by Dr. Laresh Jayasanker, but also received additional help from Dr. R. Todd Laugen (both from the MSU Denver History Department).
Dr. R. Todd Laugen wins award
Monday, April 8th, 2019
Dr. Laugen was given the 2019 MSU Denver Provost Award, "Roadrunners who Soar: Open Educational Resources Used in a Course Champion".
Dr. Paul Sidelko promoted
Monday, April 8th, 2019
The department wishes to congratulate Dr. Paul Sidelko. On April 8, President Janine Davidson granted his promotion from Associate Professor to Full Professor, effective Fall Semester 2019.
Honoring the life of Laresh Jayasanker, Ph.D.
MSU Denver mourns the loss of a talented and passionate history professor.
Tuesday, November 27th, 2018
Associate Professor of History Laresh Jayasanker died Nov. 19 at age 46 after a struggle with pancreatic cancer. Services will be held Friday at 10 a.m. at the Olinger Chapel Hill Mortuary and Cemetery, 6601 S. Colorado Blvd. in Centennial. Donations can be made in Jayasanker's name to Food Bank of the Rockies, Pancreatic Cancer Action Network or the Sierra Club.
Jayasanker joined the MSU Denver faculty in 2011 and before that taught at Carroll University and the University of Texas at Austin and as a high school social-studies teacher. He earned a bachelor's degree from Wesleyan University, a master's degree in education from Stanford University and a master's degree and a Ph.D. in history from the University of Texas at Austin. His research focused on immigration- and globalization-spurred transformations in U.S. food culture. In addition to publishing numerous articles on the topic, he completed a book manuscript that is expected to be published posthumously.
Jayasanker is remembered as an outstanding teacher, advisor and mentor to MSU Denver students, especially history students who aspired to teach. He taught popular courses on recent U.S. history, race and ethnicity in American history, methods of teaching history and food in American history — which always ended with him treating the class to a nice lunch. He is survived by his wife, Susanne, daughters Holly and Ella, parents M.R. and Theresa, and sisters Lara and Leah.
Dr. Sheila Kaplan, History Professor and Former President of Metropolitan State College of Denver, Due to Retire
Monday, November 26th, 2018
For information about her far-reaching influence on MSU Denver, click this link: https://msudenver.edu/early-bird/2018/11/26-kaplan.shtml
Florence (Johnny) Frisbie, Author of "Miss Ulysses from Puka-Puka", to Speak on Campus
Thursday, November 15th, 2018
"The Great War and Collective Memory" Panel Discussion with Dr. Todd Laugen
Saturday, November 10th, 2018
National Humanities Scholar, Charles Everett Pace to Portray W.E.B. Du Bois
Thursday, November 8th, 2018

History Teaching Workshops to Be Held
Tuesday, October 9, 2018 & Tuesday, November 13

Philosopher Martha Nussbaum to Speak on Campus
Thursday, September 27, 2018
For more information visit this link.
Panel Discussion with Martha Nussbaum
Wednesday, September 26, 2018
Dr. John Monnett Wins Award
Friday, September 14, 2018
John Monnett was given the "Co-Founders Award" from Westerners International for best Non-Fiction of 2017, for his book "Eyewitness to the Fetterman Fight, Indian Views", (University of Oklahoma Press).
Barbara Gabriel Receives Award
September 2018
Barbara Gabriel was awarded by the Gender Institute for Teaching and Advocacy, for her contribution to activism and equality.
MSU Denver History Graduate Wins Award
Wednesday, July 18 2018
Former History major Caleb G. Hardner, was awarded the Marilyn B. Young Dissertation Completion Fellowship by the Society for Historians of American Foreign Relations (SHAFR), for his dissertation, "Infectious Intruders, Helpless Hawaiians: Public Health and the Meaning of Race in Colonial Hawai'i, 1879-1914". For more information, go to this link: https://shafr.org/content/shafr-awards-prizes-its-annual-conference
Dr. Stephen Leonard's Interview Featured on Colorado Public Radio
Friday, May 4, 2018
This interview focused on lynchings in Colorado, and was hosted by Nathan Heffel.
Ellen Slatkin Given Award for Service
Tuesday, May 1, 2018
Ellen Slatkin was given the 2018 Distinguished Service Award for Faculty, for her exemplary work teaching for the University for over twenty years.
https://msudenver.edu/early-bird/2018/05/01-bbq-awards.shtml
Dr. Shelby Balik Wins Award
Monday, April 30, 2018
Shelby Balik was given the Rev. Vernon H. Nelson Memorial Fund Grant from the Moravian Archives in Bethlehem, PA.
http://www.moravianchurcharchives.org/news/2018-research-grant-recipients-announced/
Dr. Matthew Makley Wins Award
Monday, April 30, 2018
Matthew Makley was given the Dr. Liz Friot Award for a faculty member in Outstanding Support of Roadrunners Athletics, for 2018.
https://roadrunnersathletics.com/news/2018/4/30/general-winners-of-2018-rowdy-awards-announced.aspx
Dr. Stephen Leonard Featured in the
Metropolitan Denver Magazine
Thursday, December 7, 2017
Dr. Leonard was featured in the "Final Word" of the Metropolitan Denver Magazine, winter edition. The story appears on page 32. There is also a podcast with the entire interview, which you can find at: https://insider.msudenver.edu/leonard/
The title of the podcast is "Conmen, Scoundrels, and Others of Various Ilk."
All History Departmental Telephone Numbers Changed
Tuesday, August 8, 2017
Our new main telephone number is 303-615-0500. We will be updating the contact information on our Faculty and Staff page soon.
Dr. Andrew Muldoon Wins Grant
Thursday, July 20, 2017
Professor Andrew Muldoon, together with Drs. Akbarali Thobani and James Aubrey, has won a $92,000 grant. Muldoon will be directing a Fulbright seminar in India on South Asian politics and history for secondary school social studies and history teachers, as well as for students currently studying for licensure in these fields at MSU Denver. There may also be openings for a few MSU faculty members to join the seminar. They will all spend the month of June 2018 in India.
Dr. Matthew Makley Honored
Tuesday, June 20, 2017
Dr. Makley received a Teaching Excellence award at this year's MSU Denver Faculty and Staff Appreciation Barbecue. For more information and to read an interview with Dr. Makley, follow the link below:
https://www.msudenver.edu/early-bird/2017/06/20-makley.shtml?emc=lm&m=1107313&l=6&v=1161506
Award Given in Honor of the Late Dr. Vincent C. deBaca
Thursday, May 4, 2017
6:00pm, Tivoli Turnhalle
The Latino Graduation Committee has decided to split their current "Espiritu de Azlan" award which in the past honored both a student and a member of the faculty or community during the Latina/o Graduation Ceremony. The "Espiritu de Azlan" award will now only honor a student, and the new Vincent C. deBaca award will honor a member of the faculty or community. The Latina/o Graduation Ceremony is this Thursday, May 4th at 6pm. For more information you about the Latina/o Graduation Ceremony please go to: http://www.msudenver.edu/commencement/specialtyceremonies/latinaograduation/
Dr. Vincent C. deBaca was an Emeritus Professor of the History Department and former Chair of the Chicano Studies Department.
History Department Mourns the Passing of Professor Laura McCall
Monday, May 1, 2017
Dr. Laura McCall, a distinguished scholar and teacher in the department, passed away on April 30, 2017. She joined the History Department in 1990, after teaching at Western State College in Gunnison, Colorado, for eight years. She received her B.A. at Northwestern and her M.A. and Ph.D. at the University of Michigan, where her research focused on gender in the antebellum United States.
At MSU Denver, McCall was a prolific scholar, publishing book chapters and articles, including three in the most prestigious journal in her field, Journal of the Early Republic. She also co-edited A Shared Experience: Women, Men, and the History of Gender (New York: New York University Press, 1999) and Across the Great Divide: Cultures of Manhood in the American West (New York: Routledge, 2001).
Dr. McCall was the rare professor who excelled at all facets of her work. The university honored her with awards for outstanding teaching in 1996, research in 2001, and service in 2007. She was a tireless advocate for historic preservation in her home town of Golden, and she showed uncommon dedication to students both in and outside of the classroom. Students praised her as both a demanding and rewarding instructor, and she took great pride in her sponsorship of the department's chapter of Phi Alpha Theta, the History Honor Society. She will be sorely missed.
World War I Commemoration Events
Wednesday-Friday, April 19-21, 2017
Dr. Stephen Leonard Helps to Commemorate 100th Anniversary of the U.S. Entry Into WWI
Thursday, April 6, 2017
As part of the commemoration of the one-hundredth anniversary of the United States' entry into World War I, both the Denver Post and Colorado Public Radio's Colorado Matters interviewed History Professor Stephen Leonard. You can read and listen here:
Appearance as Guest Historian on WNPR's Colin McEnroe Show
Thursday, April 6, 2017
History Department faculty member Cecilia Gowdy-Wygant appeared as a guest Historian on WNPR's Colin McEnroe show to discuss the Women's Land Army, a program during World War I and World War II that helped ensure the United States didn't suffer food shortages when men marched off to war by recruiting women to work on farms and in urban gardens. Beyond making sure the country was fed, these agricultural campaigns bolstered efforts of women to win voting rights and solidify other gains in the workforce. Gowdy-Wygant is the author of Cultivating Victory: The Women's Land Army and the Victory Garden Movement (Pittsburgh, 2013). You can listen to the WNPR show here: http://wnpr.org/post/women-who-served-americas-fields
Connections for Social Science & Arts Majors Event
Wednesday, March 8, 2017
3:00-4:30pm, Tivoli 320
Sponsored by the Office of Career Services
Network with over sixteen local employers
Connect to internship and career opportunities
Be ready to interview (with professional dress and resume)
Academic Freedom Forum
Monday, March 6, 2017
History Department Mourns the Passing of Professor Emeritus Vincent C. de Baca
Monday, November 14, 2016
Professor, scholar, and social activist Dr. Vincent C. de Baca passed away on November 12, 2016. He joined the History Department in 1993, after serving in the United States Marine Corps and then receiving his B.A., M.A., and Ph.D. at the University of California at San Diego, where his research focused on U.S.-Mexican relations. While at UCSD, Professor C. de Baca worked on the 1969 Plan de Santa Barbara and the push to establish Lumumba Zapata College.
During his time at MSU Denver, Professor C. de Baca wrote numerous articles and edited La Gente: Hispano History and Life in Colorado (Denver: Colorado Historical Society, 1999), which won the Leroy R. Hafen Award. He chaired the Chicano Studies Department from 2004 to 2007. And he was a founding member of the Metro State Faculty Federation. He retired from the university in 2015.
Dr. C. de Baca was known for his fiery lectures and his passion for social justice. Students recognized him as a compassionate mentor, learned teacher, and inspiring leader. He will be fondly remembered.
Professor Stephen Leonard has Written a New Book
Friday, November 4, 2016
Dr. Leonard and Dr. Tom Noel will be signing Denver: A Short History (University of Nevada Press, 2016) on the 4th of November at 7:00pm, at the Tattered Cover on East Colfax.
Professor James Drake wins the Ray Allen Billington Prize
Friday, October 21, 2016
Dr. Drake was awarded the prize by the Western Historical Association, for his article, "A Divide to Heal the Union: The Creation of the Continental Divide," which appeared last year in the Pacific Historical Review (Vol. 84, No. 4, November 2015: 409-447).
History Program Review
Tuesday, September 27th from 4:15-5:15pm, in CN 210
Calling All MSU Denver History Major Alumni! We're Giving Away Amazon Gift Cards!
Please join history faculty to share your comments about the History Major program & offer any suggestions for improvement. We need your feedback!
We'll give out Amazon Gift cards to the first 10 alumni who RSVP to Todd Laugen at: rlaugen@msudenver.edu
Please RSVP soon.
Constitution Day
September 16, 2016

Professor James Drake Wins Award
August 4, 2016
Dr. Drake won "The Louis Knott Memorial Award" which is given out annually by The Pacific Coast Branch of the American Historical Association, for the most deserving contribution to the Pacific Historical Review. Professor Drake won the award for his scholarly article entitled, "A Divide to Heal the Union: The Creation of the Continental Divide," found in the Pacific Historical Review 84(4) (November 2015): 409-47.
Professor Matt Makley to Win an Award
Thursday, May 5, 2016
Dr. Makley has been selected to win the prestigious 2016 Faculty Senate Teaching Excellence Award for Tenured Faculty. According the selection committee, competition for this year's award was especially intense. Matt will be formally presented the award at a ceremony in the fall by President Jordan.
Professor Kim Klimek Wins Award
Tuesday, April 26, 2016
Dr. Klimek received an "Outstanding Women's Award" from The Institute for Women's Studies and Services, at their 29th Annual Celebration.
LoDo Walking Tour with Professor Kevin Rucker
Sponsored by the History Club
Sunday, April 24, 2016
We will meet outside "The Market" on Larimer Square, 1445 Larimer Street, Denver. The History Club is paying for people to participate, but you must RSVP no later than this Friday, April 15, at 5:00 pm. To RSVP, email Professor Ellen Slatkin at: slatkine@msudenver.edu
Professor Meg Frisbee Published a New Book
Tuesday, April 12, 2016
Dr. Frisbee's new book is entitled, Counterpunch: The Cultural Battles over Heavyweight Prizefighting in the American West and can be found:
http://www.amazon.com/Counterpunch-Cultural-Heavyweight-Prizefighting-American/dp/0295995467/ref=sr_1_1?ie=UTF8&qid=1460488212&sr=8-1&keywords=meg+frisbee
Professor Susan Brandt Wins Award
Monday, April 11, 2016
Dr. Brandt's Temple University dissertation, "Gifted Women and Skilled Practitioners: Gender and Healing Authority in the Delaware Valley, 1740-1830," has just won the Organization of American Historians' Lerner-Scott Prize. The prestigious prize recognizes this year's best dissertation in American women's history.
History Club Meeting
March 28, 2016 in CN 210
Kevin Rucker featured on Rocky Mountain PBS "Colorado Experience"
First aired: November 5, 2015
The episode, "Speer in the City", will air November 5th at 7pm, on RMPBS Channel 6.
Kevin Rucker featured on Rocky Mountain PBS "Colorado Experience"
First aired: October 8, 2015
In the episode, "Indulgences of the West", Professor Rucker speaks about Denver's early wild days.
To check your local Rocky Mountain PBS station for more showings, click here.
To see the show in its entirety on YouTube, click here.
Celebrate the 50th Anniversary of the Voting Rights Act of 1965
This Constitution Day
Friday, September 25, from 12:30-2:30 in the Baerresen Ballroom (320 Tivoli)
For more information go to: https://www.facebook.com/constitutiondayatauraria
Dr. Laura McCall Selected as Facilitator for a Faculty Learning Community
July 2015
Dr. Laura McCall of the History Department has been selected as the facilitator for a faculty learning community sponsored by the MSU Center for Faculty Excellence. She will assist faculty in integrating peace education into their courses. Interested faculty should contact Dr. McCall mcalll@musdenver.edu . The information below is from the MSU Denver CFE:
Faculty Learning Communities (FLCs) are cross-disciplinary groups of faculty, numbering roughly 8 to 12 members, engaged in active, collaborative learning throughout the academic year around a specific theme and toward defined outcomes.
Peace for the MSU Curriculum will explore the pedagogy and integration of peace education across university disciplines and discuss a vision for professional development which will encourage faculty to revise existing courses to reflect Peace and to potentially develop new courses. We hope to engage faculty from all Schools, recognizing how the study of peace encompasses all fields of study and represents a serious academic field.
Faculty Learning Communities (FLCs) are cross-disciplinary groups of faculty, numbering roughly 8 to 12 members, engaged in active, collaborative learning throughout the academic year around a specific theme and toward defined outcomes.
Meeting times and place:Meetings will be in Central 103 from 11:30 -1:30 except for August 28.
August 28 - Classroom Location TBA, September 18, October 16, November 20, December 11, January 29, February 19, March 18, April 15, May 20.
Dr. Kimberly A. Klimek Granted Tenure
May 8, 2015
Dr. Kimberly A. Klimek of the MSU History Department was granted tenure by Metropolitan State University's Board of Trustees. Dr. Klimek began teaching as an affiliate at MSU in 1998. In 2009 she became a full-time faculty member and the same year received her Ph.D. from the University of New Mexico. Her teaching fields include European, World, Medieval and Women's history. In 2013 she published "Aethelflaed: History and Legend" in Quidditas, the online journal of the Rocky Mountain Medieval and Renaissance Association (RMMRA). In 2014 she organized the RMMRA's annual meeting held at Metropolitan State which drew scholars from the United States and Europe.
Trustees Honor Five History Faculty
May 8, 2015
Five History Department faculty members—Dr. Thomas Altherr, Dr. Vincent C. de Baca, Professor Barbara Gabriel, Dr. Monys Hagen and Dr. John Monnett—were granted emerita/us status by the Metropolitan State University of Denver Board of Trustees. Collectively they have served Metropolitan State for more than 135 years and taught more than 20,000 students.
Dr. Thomas Altherr joined the faculty in 1979. He quickly enlivened the curriculum by developing such courses as Baseball History and American Environmental History. A prolific scholar he has produced numerous articles and two books including an encyclopedic work on early American sports. Dr. Altherr has won numerous awards including the University's Distinguished Service Award.
Dr. Vincent C. de Baca joined the faculty in 1993. His teaching fields include Chicana/o and Mexican History as well as general U.S. history. His edited collection of articles on Hispanic History, La Gente, has been widely used by students for more than a decade and a half.
Professor Barbara Gabriel has taught in various capacities and for several departments for a quarter century. She helped pioneer the First Year Success Program. Her American Civilization courses have been among the department's most popular offerings.
Dr. Monys Hagen, who joined the faculty in 1990, can boast of many accomplishments including helping create the department's Women's History offerings, serving for three years as president of the MSU Faculty Senate, and creating a website detailing the history of the WACs at Camp Hale Colorado during World War II. In 2011 Dr. Hagen was awarded the President's Award for her many years of service.
Dr. John Monnett began teaching at Metropolitan State in 1986. Widely published in Western and Native American History, Dr. Monnett was recently honored by the Northern Cheyenne who presented him with a chief's blanket.
Dr. John Monnett Honored by Northern Cheyenne
April 2, 2015
Dr. John Monnett was honored on April 2 in Lame Deer, Montana by the Northern Cheyenne Nation for his articles and books on nineteenth century Northern Cheyenne history with the presentation of a traditional chief's blanket during wreath laying ceremonies for historic chiefs during the 136th anniversary of the Exodus of Chiefs Little Wolf and Dull Knife from Indian Territory (now Oklahoma) in 1878-1879 to their homelands in Montana against enormous odds. Dr. Monnett's book, "Tell Them We are Going Home: The Odyssey of the Northern Cheyennes" (Norman: University of Oklahoma Press, 2008) is widely referenced on the Northern Cheyenne Indian Reservation during commemorations and is used as a text at Chief Dull Knife College in Lame Deer, Montana.
History professor wins coveted spot in Japan seminar
February 19, 2015
Professor Tian, who specializes in East Asian history, is one of only 10 scholars nationwide selected to travel to Japan for two weeks this summer. PHOTO: Courtesy of Xiansheng Tian
"Surprise! You're going to Japan this summer!"
Okay, this wasn't quite the way Professor Xiansheng Tian learned that he was one of only 10 people nationwide invited to participate in a unique seminar offered by the American Association of State Colleges and Universities' Japan Studies Institute in July, but his recent selection came as a total surprise to him. And for someone who specializes in East Asian history, including teaching a course on Modern Japan, this will be the trip of a lifetime.
Make that the second trip of a lifetime.
Tian's first epic journey occurred when he came to the United States from his native China in 1988. "I arrived on Jan. 19. I still remember that day," said Tian who struggled to overcome the bureaucracy that made leaving China at that time challenging. "You had to apply for a passport and then go through training — orientation, they called it — that was actually supervised by national security officials."
Having jumped through the hoops held in his path, Tian finally reached the State University of New York in Cortland, where he earned his master's in history. "Right around the time I was finishing my degree [in the U.S.] soldiers were shooting into crowds of students in China," said Tian, referring to the pro-democracy protests of 1989 and subsequent Tiananmen Square Massacre in Beijing.
Like many of his compatriots studying in the U.S., Tian realized he might be targeted by the Chinese government if he returned to his homeland. Fortunately, former President George Bush, Sr. issued an executive order allowing all Chinese students to remain in the U.S. even if their visas had expired. That order eventually became the Chinese Student Protection Act in 1990, which enabled roughly 50,000 students to remain in the U.S. Tian was one of them.
"I was planning to go back to China after I earned my degree because my family was there," said Tian, who, after two years of more hoop-jumping, succeeded in getting his wife and daughter safely ensconced in the U.S.
"My students like to hear my story whenever I'm teaching my Modern Chinese History class," said Tian. "They love it. In the student evaluations, they always mention it."
Undoubtedly, Tian's students will also love hearing of his experiences in Japan this summer. Funded by the Japan-United States Friendship Commission, the Japan Studies Institute's seminar is designed to deepen American scholars' understanding of Japan so that they can incorporate that newfound understanding into their courses and curricula, and to foster opportunities for U.S.–Japanese institutional cooperation. The two-week program will include campus visits, meetings with scholars, business leaders, higher education officials, and other teaching and learning resources in Tokyo, Kyoto and Beppu.
"I'm going to learn a lot, I'm sure about that," said Tian. "And that kind of experience will help me enrich my classes here."
Edit this page